Michelle Obama's America vs. mine.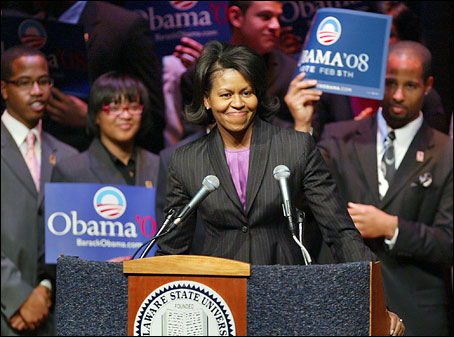 Listen to the broadcast of You Tell Me on Newstalk 600 KTBB, Friday, Feb. 29, 2008
Here's a quote that has been bugging me.
"For the first time in my adult life, I am proud of my country, because it feels like hope is making a comeback."
If you haven't heard, the speaker was Michelle Obama to a campaign crowd in Wisconsin week before last.
Well, Paul, give her a break. She didn't really mean it like that. She's not the politician. She's not really in the business of giving speeches. It just came out wrong.
Well, not so fast. Because she said it again and this time we have it on tape.
Before we break this quote down, let's make an assumption. Let's assume that the candidate, Michelle Obama's husband, who wants to be your president, is OK with it.
We must make that assumption because neither he nor his campaign has done anything to tone it down. No one in the Obama campaign has said, "Oh, of course Michelle Obama is proud of her country. She was simply trying to make a point about the amazing significance of having a black man in serious contention for the presidency for the first time in American history."
Obama is standing by the quote so you can only assume that he agrees with it.
Michelle Obama was born in 1964 so her adult life dates from 1982. Let's ask her about the following:
As a direct result of America's principled insistence, the Berlin Wall fell in 1989. When that happened, millions of German citizens who had been prisoners in their own country, the unwilling subjects of an occupying Soviet army, were set free.
Was Michelle Obama not proud?
Related to the Berlin Wall is the end of the Cold War that gave birth to it. For nearly four and a half decades, the world had lived with the very real possibility that the United States and the Soviet Union could wind up in a nuclear exchange that would end the lives of countless millions and perhaps bring an end to all civilized society.
Again, as a result of America's principled insistence, the Soviet Union gave up on its vision of world hegemony and quietly went out of business. The U.S. won the Cold War without ever firing a shot.
Was Michelle Obama not proud?
Since Michelle Obama's coming of age, the office of President of the United States has changed hands three times. In all three cases, that changing took place in the open air at a public event according to the rule of law. On those January the twentieths, the armed forces that obeyed the orders of one Commander-in-Chief at 11:59 a.m., began immediately obeying the orders of another Commander-in-Chief one minute later.
Does that not make Michelle Obama proud?
When Michelle Obama was born, the president of the United States still called people of her race negroes. Today, the president of the United States calls one woman of her race, "Madame Secretary."
Is Michelle Obama not proud?
Peggy Noonan asked the question. Are the Obamas snobs? During their privileged Ivy-league educations, did anyone tell them anything about what normal Americans think?
Are the majority of Americans without hope, as Michelle Obama suggests? If that is so, how do you explain the growth right here in our own community? Every business that opens, every house that gets built, every spade of earth that gets turned on a construction jobsite is an expression of hope.
So is every first day of kindergarten and every graduation day.
Is pride in the America that Michelle Obama wants her husband to lead so tenuously held by those whom Barack Obama would have vote for him? Is America suddenly good because he has a shot at winning the presidency? What, then, is America if he loses?
All my adult life, I have believed that America is exceptional. Flawed yes. But exceptional in all of history. Ronald Reagan won huge majorities by seeing America as the "Shining City on the Hill."
I believe that America is the kind of country that on the whole acts as an agent of good in the world. The kind of country that will spend billions of its own treasure on the Marshall Plan, rebuilding its enemies rather than plundering them. The kind of country that will abolish slavery on its own and by increments, put behind it the corrosive forces of bigotry.
I believe America is a good place filled with good people.
I'd like my president, and my first lady, to believe that as well.