Take a number and we'll call you when your cancer is Stage 4.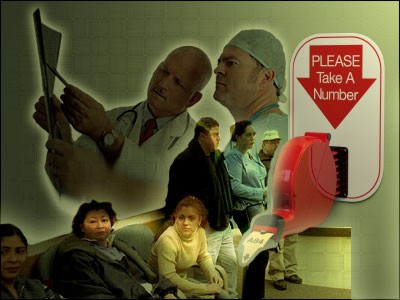 Sometimes these pieces just write themselves. My experience of last Friday is an example.
In the movie "Baby Boom", a seriously overwrought Diane Keaton pours out her heart to a man she believes to be a doctor, disclosing among other things her deepest fears, her precarious financial situation and her lack of recent sexual release, only to find out that the "doctor" she's talking to is a veterinarian.
You quickly appreciate from Ms. Keaton's experience that health care is personal. It's not about acronyms and arcane language in a bill crafted by legislative aids, vetted by lawyers and administered by bureaucrats. It's about your life.
It's personal.
So listen to my story from last Friday and imagine something as personal as your health in the hands of the same people who bring you the driver's license windows at the Texas Department of Public Safety office here in Tyler.
I walked in to the DPS office last Friday to renew my license, blissfully unaware of the hellscape that was waiting inside. It was a shattering experience.
In order to renew my driver's license, a process that with the application of some readily available technology could be easily automated, I first had to stand in a ten-minute line.
Ten minutes, Paul? That's not so bad.
Oh, but wait.
The line I stood in for ten minutes was for the purpose of being issued a number. The purpose of the number was to queue myself in the waiting area.
I'm not making this up. I had to wait in order to be given a number so that I could go wait. In my case, I was given number 83. They were currently serving number 59. I started the timer on my iPhone and one hour, four minutes and 35.1 seconds later, they called my number.
During that time, two of the four windows at which one can transact business with the DPS were inexplicably vacated for extended periods. And at one point, while approximately 60 people waited in the seating area, (after having endured the wait for the numbered slip of paper that afforded them that privilege) it took 19 minutes and 38 seconds to advance from number 75 to number 76.
I, and several others tried, in vain, to seek redress. We were told there were no supervisors available to talk to us. But if any one of us had kicked up the same amount of sand one might have kicked up in a restaurant for comparably poor service, you can bet that a uniformed trooper would have been available to stand with one forearm resting on the butt of his gun and the other resting on his baton to put the complainant in his or her place and to show everyone in the room who's boss.
The actual renewal of my license took about two minutes but I was told that it will be six to eight weeks before my new license with my picture on it arrives in the mail.
Can you imagine any for-profit enterprise treating customers this way? Even a bad one? And if American Express can replace a lost credit card anywhere in the world in 24 hours, why does it take two months to get a driver's license sent to you in Texas?
Picture this. Let's say you're hungry. You walk in to McDonald's and you stand in line. When you eventually make it to the head of the line you are issued a number. You are then told to go sit in the waiting area for your number to be called. An hour later, they call your number and then you get to place your order and wait for your food.
Of course, that would never happen. There's a Burger King caddy-corner across the street.
And therein lies the point.
With respect to getting a driver's license, you can't take your business elsewhere. Thus you get to wait.
And when we get the health care plan the administration and the majority of Congress want to pass, you'll be in the same shape with respect to your health. You'll get what you're told you can have when you are told you can have it.
Health care is personal so go have the personal experience. Go to a DPS office and renew your driver's license. Have the personal experience of needing something that only the government can provide.
Then, tell me where you stand on the question of government-run health care.