Ubereducated Idiots.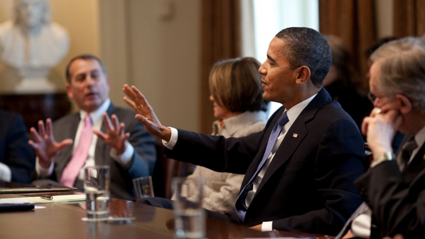 There is unfocused but growing anger in America that is directed at our political and media elites. There is a belief that the salons of the northeast are populated by hyper-educated idiots, people possessed of advanced degrees from elite institutions who nonetheless have no idea how things work.
As Americans come to grips with the fact that they have bought more house than they should have, charged too many vacation trips, new handbags and fancy dinners on the VISA card and are driving more car than they can afford, the U.S. government goes blithely on, spending as if there is no tomorrow (which is probably closer to the truth than we want to think).
Plenty of people in my circle are taking action. They're paying down debt. They're putting off getting a new car, they're eating out less and they're scaling back on vacation plans.
People I know that had plans to buy a new house are resolutely living in the old one.
People I know that once had season tickets to the symphony or theater have let their subscriptions lapse.
People I know that once went to a dozen or more Mavericks games in Dallas haven't been to a game this season.
All of this ripples through the economy, hurting auto dealers, restaurant owners, retailers, homebuilders, lumber yards, office supply stores, dentists, lawyers, butchers, bakers and candlestick makers.
And yet, the president has proposed a $3.83 trillion federal budget for fiscal year 2011 that delivers a staggering $1.6 trillion deficit. We, the American people, are watching what we spend but the government doubles down on profligacy.
And then in perhaps the ultimate insult, at the Office of Management and Budget link on the White House website that takes you to the president's 2011 budget, the headline on the page reads, "A New Era of Responsibility: the 2011 Budget." (You can't make this stuff up.)
It's as if these people believe that we knuckle-dragging clods out here in the provinces, away from the enlightened climes of New York and Washington, are just too dim to understand.
I once had a beloved aunt who had been educated at the finest universities in the country and spent her entire career working in academe who couldn't figure out why the ketchup wouldn't come out of the new plastic squeeze bottle. She took it back to the store where they politely showed her the safety seal under the cap. She had a brilliant intellect and a first class education and was surrounded by smart people but lacked common sense. She didn't know how things work.
That's what we're dealing with now. Our policy makers are educated to the nines but cannot even acknowledge the real world. They probably can't figure out the ketchup bottle either but unlike my aunt, these liberal elites are condescending and arrogant while my aunt was a kind, gentle, sweet woman.
The 2011 budget has nothing whatsoever to do with a 'new era of responsibility." Don't believe me? Here's just one example. When the recession started, the Transportation Department had only one person earning a salary of $170,000 or more. Eighteen months later, 1,690 employees have salaries above $170,000.
Nearly 1,700 employees making more than 170K doing what? And when was the last time you had a raise?
Common sense says that if you can't squeeze ketchup out of the bottle, something is blocking it and you need to find out what it is and remove it.
Common sense says that if you keep spending money you don't have, you're going to go broke.
Everybody you know understands that.
But the people who are running the country apparently eat their hamburgers and French fries dry.