Bureaucrats vs. business? Bet on the bureaucrats.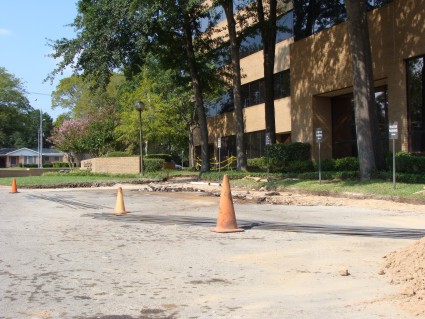 Click here to listen to the broadcast of You Tell Me on KTBB AM & FM, Friday, August 26, 2011.
My curiosity regarding some work being done outside the office building in which my radio stations reside collided with a story I heard Thursday regarding the regulatory explosion that has occurred under the Obama administration and the president's promise of a "major policy statement" on jobs and the economy on September 5.
It all comes together like this.
Workers have torn up the sidewalk in front of my office building for no apparent reason. A quick call to the building management revealed that the management had committed the sin of securing a large, financially stable and prestigious tenant. That new tenancy necessitated a major build-out on most of one floor of the building. That build-out required a permit from the city.
And thus began another encounter with an ever more parasitic government.
The Americans with Disabilities Act, known as "ADA", was signed in to law in 1990 by President George H.W. Bush. It, like most laws that purport to benefit one group of citizens at the expense of another, was enacted with noble intentions.
One of the goals of ADA is to make buildings and public spaces more easily accessible to persons with physical disabilities. Any decent person is going to agree that helping those with disabilities as best we can is a good thing. Indeed, if you read a summary of ADA's provisions, they, for the most part, seem reasonable. And that's how these things always start.
But then you remember that laws create bureaucrats and that bureaucrats justify their ever-growing numbers, their ever-growing salaries and their ever-growing benefits by busying themselves in the process of justifying their existence.
In the case of this building, the application for a building permit occasioned a visit by city inspectors who conducted an ADA compliance review. That review determined that the sidewalk in front of the building was a degree or two too steep and thus not compliant with ADA. Such noncompliance necessitated the remediation of the sidewalk's precipitous incline as a condition of receiving a building permit. And thus the work activity that occasioned my curiosity.
This story is a perfect illustration of one of the big reasons the economy is not growing and is not creating jobs.
This building has been here since 1984 and has been modified countless times since the enactment of the Americans with Disabilities Act. Each modification necessitated meeting ADA requirements and to the best of the owner's knowledge, the building was compliant when they signed that big new tenant.
But out of the blue the sidewalk that was just fine for the first 20 years of ADA's existence, the sidewalk that had survived countless building permit applications and to no one's knowledge had ever created any problem for any physically challenged individual, is suddenly non-compliant and requires many thousands of dollars worth of modification.
It is this kind of regulatory capriciousness, and the growing realization that the regulatory burden is reaching a tipping point, that is putting a chill on business investment. It's a huge reason that the economy is stuck.
Obama apologists would point proudly to the workers engaged in modifying the offending sidewalk as an example of jobs being created. But that ignores the fact that in return for the investment of thousands of dollars in modifying the sidewalk, this building will not be worth a single dollar more than it was before nor will it facilitate the owner's ability to charge a single dollar more in rent. Plus, any plans the owner might have for improving this property will be tempered by the possibility that some future ADA-enforcing bureaucrat will spring some future expensive surprise.
Multiply this times the thousands of pages of regulations and the army of bureaucrats that can smack down a business owner at any moment, add in the still un-quantified Obamacare, and you can start to understand why companies are hoarding cash rather than investing cash.
Be assured that the president's "major policy statement" on jobs and the economy will not address any of this on September 5. You can therefore be assured that this latest pronouncement from the president will fall as flat as all of his other pronouncements have lately.
September 5 is Labor Day. I think I'll just watch the telethon.