Parallels.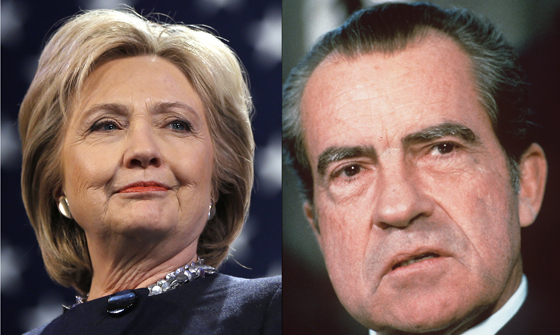 Listen To You Tell Me Texas Friday 8/26/16


Download
People are beginning to compare the never-ending Hillary Clinton email saga to Watergate. That is not good news for Mrs. Clinton and it's even worse news for the country.
In June 1972, operatives for President Richard Nixon's re-election campaign broke into the Democratic National Committee's offices at the Watergate office complex in Washington, D.C. The purported reason for the burglary was an attempt to photograph key Democratic campaign documents and to place wiretaps in the phones.
When news of the burglary first came to light, Nixon was initially able to keep his distance from it. But that didn't last. The story refused to die. Nearly every week, some new bit of information would come to light. Month-by-month, attempts by Nixon and his aides to put the Watergate affair in the rear view mirror failed. Every denial turned out to be a lie. Every attempt to dismiss Watergate as a minor burglary served only to make it look worse.
As we know, the Watergate scandal would eventually hound Richard Nixon from office. Watergate happened long before email was invented. But for a reel-to-reel tape recorder in the Oval Office – one put there at President Richard Nixon's direction – Nixon  might have skated on Watergate.
Hillary Clinton's problem is much more persistent because emails are more persistent. Once an email is created and sent, it is virtually impossible to eradicate it.
A constantly enlarging pool of such emails strongly suggests misconduct by Hillary Clinton every bit as egregious as that of Richard Nixon. What can be publicly discerned gives the unmistakable appearance that she effectively sold access to the office of the Secretary of State for financial and political gain.
The evidence strongly indicates that she used a charitable foundation bearing her name and under her de facto control as a conduit for "contributions" that look disturbingly like payments for access to her office.
Just as Team Nixon could never seem to escape the Watergate story, Team Hillary cannot seem to escape a steady stream of potentially incriminating revelations stemming from Hillary's emails.
At this point in Watergate, there was no conclusive proof that Nixon was directly guilty of anything. But the whole thing stunk like a polecat.
Just as email-Gate now stinks.
That, however, is where email-Gate and Watergate parallels begin to diverge.
By this point in Watergate – 14 months after it first came to light – Richard Nixon was in real political trouble. His approval rating in the polls had crashed to a dismal 31 percent. The national media – at that time the three big TV networks and the major-city daily papers – were on him relentlessly.
Such has not happened for Mrs. Clinton – even though her 'pay-for-play' emails are every bit as malodorous as the Watergate revelations were.
Republicans, together with a large majority of the American people, renounced Richard Nixon.
That Democrats and a majority of Americans are sticking with Hillary is telling us that the country has dramatically changed since 1974.
And not for the better.