Rev. Jeremiah Wright should re-listen to Rev. Martin Luther King.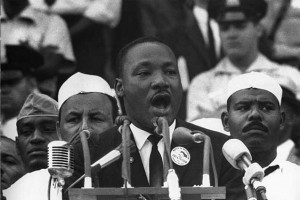 Author's note: This piece makes little sense absent the audio clips that are a part of it. To get the entire meaning of this post, either click on the "Listen here" links when they appear in the text, or listen to the spoken broadcast of this post on Newstalk 600 KTBB as it aired on Friday, Apr. 4, 2008. The link to that broadcast is immediately below.
Click here to listen to the broadcast of You Tell Me on Newstalk 600 KTBB in Tyler, Texas, Friday, Apr. 4, 2008.
Forty years ago today, if you were listening to KTBB you would have heard, among other things, the following clips: Listen here.
Today marks the 40th anniversary of the day in which Martin Luther King was cut down by a sniper. Landmark anniversaries are divisible by five. This landmark anniversary, coming as it does on the heels of the Rev. Jeremiah Wright episode, is, in my opinion, particularly significant in this campaign year.
I would be shocked if Rev. Wright did not hold himself out to be an admirer of Martin Luther King. I'm certain that Rev. Wright happily wraps himself in an apostolic cloth of Martin Luther King-borne legitimacy.
Among many very incendiary statements that Rev. Wright made in the pulpit of Trinity United Church of Christ he said this: Listen here.
I'm a middle-aged white guy. So maybe I just don't understand. But you have to ask yourself; Would Martin Luther King want Jeremiah Wright on his team today? Is Jeremiah Wright a true acolyte of Martin Luther King? To consider these questions, it's necessary to re-listen to Dr. King's speech on the steps of the Lincoln Memorial, Aug. 28, 1963. It's a speech that will live for generations as one of the finest pieces of oratory ever.
Here's a one-minute edited montage: Listen here.
"We will be able to transform the jangling discords of our nation into a beautiful symphony of brotherhood." If Martin Luther King, growing up in the segregated south when he did, could learn the king's English, every kid in America should be able to today. But I digress.
Martin Luther King's speech was a statement of grievance. Don't think it wasn't. He went down the list. But in tone and conclusion, it was optimistic and hopeful. It called upon our better angels. And it was effective because it not only spoke to black people, it touched the hearts of white people. And we began that day the long and still unfinished process of getting better as a nation.
So Rev. Wright, if you want to claim the mantle of Dr. Martin Luther King, shut up and read his speech. Make his life worthy of the price he paid 40 years ago today.
(Related commentary in this article by Juan Williams in The Wall Street Journal here.)