The American (after tax) generosity machine.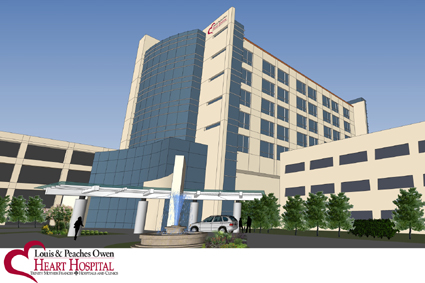 Earlier this week on Tuesday morning, the top folks at Trinity Mother Frances Health System in Tyler hosted a breakfast for the purpose of making a big announcement. Mr. & Mrs. Louis Owen have made a cash gift to Trinity Mother Frances of $18 million for the purpose of building a seven-story, free-standing heart hospital that will be named in their honor.
As I sat there listening to the presentation and looking at the artist's renderings of the facility, slated for completion in 2012, I couldn't help thinking that people like Louis and Peaches Owen are among the very people that President Obama believes are not paying their "fair share" of the tax burden. Never mind that if you have reached the place in life that you can give away $18 million, you have already paid more in taxes than the average American family will make in multiple lifetimes.
Louis Owen is a rather soft-spoken man and I couldn't help getting the impression Tuesday morning that he was rather embarrassed by it all. In his brief remarks, he told us how he and a group of 15 or 20 people had started Petrofac in Tyler in 1981. That company grew to over 11,000 employees worldwide and those that were there to get it off the ground profited handsomely. In other words, Louis Owen is an American success story.
And for that reason alone he is among those upon whose backs Obama and his fellow travelers on the left have painted an enormous bullseye.
It is a uniquely American virtue that upon coming into substantial wealth, one of the first things that happens is that he or she who made the money will start looking for ways to give it away. There are no Carnegie Halls in Europe, no M.D. Anderson Cancer Centers, no Vanderbilt Universities. Traipse the length and breadth of Asia and you will never find an analogue to Dallas's Morton H. Meyerson Symphony Center or New York's Guggenheim Museum.
American generosity stands alone in the world. After paying the lion's share of the tax burden of the largest economy on Earth, the typical successful American will then take a substantial portion of what's left and look for ways to voluntarily give it away for the common good.
While I'm certain that there are generous Germans and philanthropic Japanese and even magnanimous Frenchmen, generosity on an industrial scale is a purely American phenomenon.
It happens nowhere else on Earth.
So here's the question for today. Does anyone seriously believe that if the federal government had taken the Owen's $18 million in the form of additional taxes, had filtered that money through the massive, inefficient and unaccountable federal bureaucracy before transferring it to some unnamed, uncountable and unknowable recipients, that more good would have come of it than the creation of a state-of-the-art hospital in a growing community dedicated to healing human hearts?
Does anyone believe that the federal government can do more good with $18 million in money confiscated from successful Americans than Louis and Peaches Owen are doing out of their own free will and generosity?
Does anyone believe that?
Anyone?