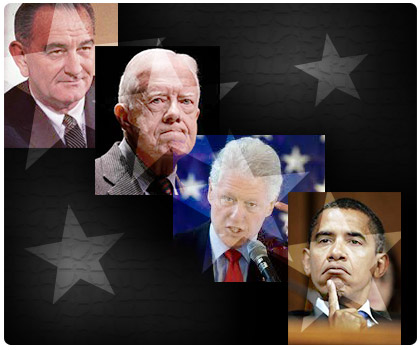 Since 1960, the country has been in a tug-of-war between those on the right that believe that one can only be truly free when one accepts full responsibility for one's own life, and those on the left that believe that freedom is not possible unless the basic necessities of life, such as food, clothing and shelter, are guaranteed by a large, activist government.
On four occasions since 1960, those on the left captured the White House and sizable majorities of Congress. In 1964, it was Lyndon Johnson. In 1976, it was Jimmy Carter. In 1992 it was Bill Clinton and in 2008 it was Barack Obama.
On three of those occasions, the country's move to the left set the stage for Republicans to take either the White House or sizable gains in the Congress in the next election. On no other occasion has the lurch to the left been greater than it has been in the 20 months following the 2008 victory of Barack Obama and it is now clear that the Democrats will certainly lose the House next month and they may lose the Senate as well.
What lessons are these 50 years of political history trying to teach us? I can think of three.
First, America has a very sizable plurality of those that would love for the government to somehow relieve us of freedom's downside and sometimes they win the day at the ballot box. Personal responsibility is the ultimate expression of freedom but with personal responsibility comes the very real chance of suffering and failure. I believe that a sizable percentage of us would like to believe that we can be relieved of that worry and live our lives as we see fit, work only when the available job amuses us, use tomorrow's money for today's gratification, hand off the raising of our children to government-run schools and all-in-all live a consequence-free life secure in the knowledge that if things don't work out, the government will be there to rescue us.
Why deny yourself the brand new car for the purpose of setting money aside for retirement when there's social security? Why take a crummy job when unemployment benefits can be stretched to nearly two years? Why set aside money for health care when someone else will pay the bill if you get diabetes or heart disease? Why worry about borrowing more than you can pay back when the government will step in as your advocate should things get tight?
These natural desires reflect human nature but they also set the predicate for the second lesson. When we get a national government that caters to our desire to be taken care of, we get economic and social chaos and we then recoil in horror. Thus the Republican victories that followed in 1968, 1980, 2000 and almost certainly in 2010. Only Bill Clinton's move to the center following the 1994 Republican midterm victory kept him from being a one-term Democrat like Johnson and Carter.
But the third lesson is by far the hardest. Despite repeated bad experiences with big-government liberalism, we keep going back for more. The desire to be taken care of overwhelms the experiences of disasters like those like those of the Johnson and Carter years and the rejection of HillaryCare in 1993. We then enthusiastically vote in an Obama – only to repudiate that vote at the next opportunity.
Thus the tug of war continues. But this election may – may – be different. Our parents and grandparents were pretty self-sufficient as a result of their experiences in the Great Depression. Big government as we now know it only exploded as we comfortable Baby Boomers began to come of age and vote.
The experience of the Great Recession of the 21st Century may, at last, be a game-changer and the false promises of big government may stand repudiated for a generation.
We should all hope so, anyway.