Es tiempo aprender inglés. (It's time to learn English.)
Recently I was driving on south Broadway in front of Hogg Middle School in Tyler when I saw a series of yard signs on the campus announcing that progress reports were being issued. The signs appeared in the parkway in front of the school in a row, alternating between signs in English and signs in Spanish.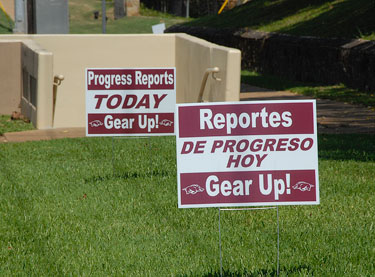 Honest to goodness, if you're in middle school in Tyler, Texas and you need a sign in Spanish to tell you that progress reports are coming out, how much progress are you really making?
We asked TISD's Angela Jenkins about the signs. She told us that the signs were for the benefit of TISD' s "bilingual community."
Bilingual community?
When Hispanics make the choice to come to the U.S. for a better life with more opportunity, the worst thing we can do, as a society that has historically welcomed immigrants, is coddle parents and children when it comes to English.
English is the language of success in America and around the world. It is the lingua franca of commerce everywhere on the planet. Facility in English is absolutely prerequisite to high level employment in this country. Not fluent in English? Don't expect to be a doctor, lawyer, accountant, banker or insurance salesman.
Don't expect investors to fall all over themselves to provide capital for the business you are wanting to start. Same thing for the loan officer from whom you would like to borrow money.
My wife's grandparents came over in steerage and landed on Ellis Island. In early 20th century America, no one had even thought of the phrase "bilingual community." If you couldn't speak English, you couldn't get a job. No job – no food. This simple economic equation served to focus the minds of the boatloads of immigrants coming to America. They had to learn the language and learn it quickly. Which they did.
And although my wife's Grandpa Ben spoke English with a heavy accent to his last day, speak English he did.
Grandpa Ben's children and grandchildren speak the English of America, accented only by the patois of the American neighborhoods in which they were raised. And they are American through and through. "We are a nation of immigrants," is not a phrase that pertains to people from Mexico who want the opportunity and freedom of America without the attendant costs and responsibilities. It does not pertain to those who want to transplant their native country (Mexico) to American soil, absorbing none of the history, traditions, customs – and language – of the fabulously free and opportunity-rich country to which they have made the choice to immigrate.
The 'Nation of Immigrants' is Grandpa Ben and his legion of fellow travelers, who risked everything, came to America and became American as best and as quickly as they possibly could.
America's economic success depends on the availability of labor at all skill levels. As America prospers from generation to generation, there will always be a need for core labor in the lowest quintile of the wage and income ladder. These jobs have historically been filled by immigrants. Grandpa Ben was a window washer.
But his granddaughter graduated from law school. His seven year-old great granddaughter is limited in opportunity only by her imagination. Legal immigration that embraces the American way of life has been a path toward generational progress for countless millions who were born elsewhere but who came here.
There is no way to embrace the American way of life without embracing English. Lack of fluency in English condemns immigrants to de-facto ghettos of poverty without the hope for better things to come in successive generations.
There should be no such thing as "English as a Second Language" in schools charged with preparing children for success in the U.S.A. English should be the first language.
And while it may seem harsh or even cruel at first to force children to learn a language they may not hear at home, failure to do so consigns an entire generation of children to a lifetime of severely limited opportunity.
That's just un-American.