True hypocrite or just another hack playing the race card?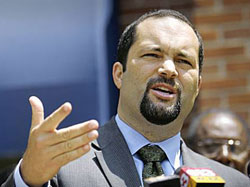 French author and Nobel laureate André Gid said;
"The true hypocrite is the one who ceases to perceive his deception; the one who lies with sincerity."
That quote comes to mind in the wake of the just-completed NAACP convention at which organization president Benjamin Jealous successfully pushed a resolution calling upon the Tea Party to, in his words, "…repudiate racist acts and bigotry in their ranks or accept responsibility."
Just to be clear. There is no Tea Party per se in the way that there is a Democratic Party or a Republican Party. There is no national Tea Party headquarters with an executive director, a board and a staff. The Tea Party is a purely organic movement. It exists as discrete groups of citizens within individual cities and communities who have banded together to express their concern at the direction in which the country is going. Forgetting for the moment the over-the-top hats and patriot garb worn by some members, in its spontaneity and in its sincerity, the Tea Party is as democratic a movement as we are likely to ever see in our lifetimes.
Since the passage of the resolution by the nation's largest civil rights group at their convention earlier this week, I have seen NAACP apologists citing as undisputed fact that members of the Tea Party shouted racial epithets at black members of Congress as they walked to the capitol for a procedural vote on health care last March. They hold to this assertion despite the fact that even though there were dozens of news cameras at the scene together with Lord alone knows how many cell phone and amateur video cameras, not one frame of video and not one second of audio has been produced by anyone to support the charge.
NAACP president Benjamin Jealous said on CBS's Meet the Press that signs have been held up at Tea Party rallies using the "N" word and calling for President Obama to be lynched. Again, even though countless professional news and amateur cameras are at virtually every Tea Party event, not one image has been produced to support the allegation.
Contrast this with the words of King Samir Shabazz, the New Black Panthers Party operative who actively intimidated voters in Philadelphia on election day in November 2008. (Click here to listen.)
"I hate white people. All of them. Every last iota of a cracker I hate him."
"We keep begging white people for freedom. No wonder we're not free. Your enemy cannot make you free, fool. You want freedom? You're gonna have to kill some crackers. We gonna have to kill some of they [sic] babies."
Now honestly Mr. Jealous, if unsubstantiated acts of racism and bigotry on the part of the Tea Party are deserving of your organization's condemnation, then surely the very clear and undeniable act of racism and bigotry by this member of the New Black Panthers Party should be equally condemned. Yet, sir, you and the NAACP remain deafeningly silent.
NAACP stands for the National Association for the Advancement of Colored People. No one – black or white – advances, Mr. Jealous, by spewing racial bile.
Racism exists in every society on earth and it is vile in every instance and should be denounced in every instance.
Which brings us back to André Gid's quote, Mr. Jealous. Are you a true hypocrite, having ceased to perceive your own deception? Or are you just another political hack playing the race card?