Did you ever think you'd miss Bill?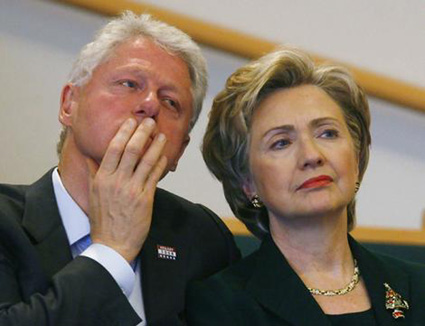 Have you noticed that Bill Clinton has been seen more lately? He's now the elder statesman of the Democratic Party and he is exercising the privileges that go with that vaunted office. Is he teeing things up for a run by Hillary? The cynic in me might say yes but it's too early to tell.
But since old slick has come out of the woodwork and in light of what's on the voters' minds, it's a good time to remember that in his State of the Union message in 1996, after a full year of digesting a Congress that was being run by Newt Gingrich, a somewhat chastened Bill Clinton said this.
"We know big government does not have all the answers. We know there's not a program for every problem. We know and we have worked to give the American people a smaller, less bureaucratic government in Washington. And we have to give the American people one that lives within its means. The era of big government is over."

Wow, Bill if I had known then what I know now, not only would I have talked nicer about you I'd have paid to have the dress dry cleaned.
As to the era of big government being over, to the extent that that statement might have been somewhat true when Clinton said it, it is by no means true today. In the 14 years since he made that boast, the U.S. government has exploded.
Today, the federal government consumes a higher percentage of the nation's gross domestic product than at any time in our history save for two of the three years of World War II.
In less than a year after taking office, Barack Obama signed off on more national debt than all of the preceding presidents since George Washington combined.
To the minds of those now in power in Washington, there is apparently no limit as to what government should do. The federal government now controls two of the nation's top three automakers and it owns huge portions of the largest financial institutions. Yesterday, portions of the new health care law became effective with more to come. By the time the law is fully implemented, your relationship with your doctor will be defined and controlled by federal employees. To get an idea, imagine a postal worker acting as your doctor's receptionist.
The federal government is mandating what is taught in our schools and seeks to tell us what we can feed our children.
The government has invaded our homes down to our very bathrooms, controlling what kind of light bulbs we may use. how much water comes out of our shower heads and how our toilets flush.
Two things are true today that weren't true when Bill Clinton declared the era of big government to be over. One, the government has never been bigger and two, the country has never been in more serious financial trouble. The two are inextricably linked.
For about three decades, American elections have to one degree or another pivoted on social issues such as gay rights, abortion, racial justice and feminism. But not this time.
This election will pivot solely on the size of government and the fiscal madness we have all witnessed in horror.
That's why Bill Clinton's renewed high profile might be suspected of betraying ambitions for his wife in 2012 and why Democrats, desperately campaigning to keep their jobs, don't even use the word "Democrat" in their TV ads.