Senseless.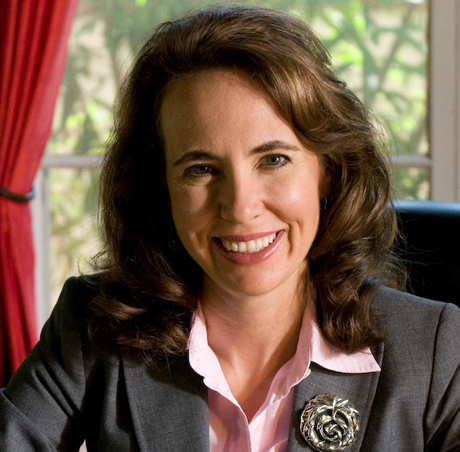 Gabrielle Giffords, the U.S. Representative from the 8th congressional district of Arizona, was holding a public event in front of a supermarket near her home in Tucson for the purpose of staying in touch with her constituents. It's something that every member of the House of Representatives – the "People's House" – either does or should do.
In the space of seconds, a lone gunman began firing. Representative Giffords was struck in the head and lies in critical condition at a Tucson hospital. Six others are dead and more than a dozen are wounded.
A 22-year old man named Jared Loughner is being held on multiple charges, including murder.
Whatever happens, Gabrielle Giffords will never fully recover. Neither will the families of those that died and neither will the victims who were wounded. In the blink of an eye, a sociopath changed their lives forever.
These are facts that no one disputes. They are tragic.
Would that the discussion surrounding this story stay on the facts. But it hasn't and it won't.
In a shockingly short time, this tragedy became politicized. And the vast majority of the over-the-top rhetoric concerning it is coming from the left.
Where to start?
Well, first here's Pima County, Arizona sheriff Clarence Dupnick.
"When you look at unbalanced people, how they respond to the vitriol that comes out of certain mouths about tearing down the government – the anger, the hatred, the bigotry that goes on in this country, is getting to be outrageous."
I'm certain that some unknown someone, somewhere has spewed something sometime about tearing down the government. But I believe that the sheriff is making a more specific reference. Call me paranoid, but I can't help thinking he's referring to the likes of Rush Limbaugh, Sean Hannity, Glenn Beck and, without specifically knowing it, me.
Blaming talk radio for any high-profile act of violence is now a badly worn cliché.
I am a vocal critic of the government on what I strongly believe to be principled grounds. Among my criticisms is my belief that government is too large and in too many cases destructive to the interests of the very people it is supposed to serve. I have not been shy about saying so. That does not make me, or Rush Limbaugh or the local talker in Huntsville, Alabama or anyone else who does what we do for a living, an accomplice to this crime.
The fact that those that regularly criticize conservatives for overheated rhetoric and so-called "hate speech" go on to characterize conservatives as accessories to murder at the first opportunity is an irony that too few have noticed.
Then there's Keith Olbermann. How would liberals know what to think without Keith Olbermann?
Olbermann is calling for Sarah Palin to expurgated from public life unless she repents of her role in this story. What role is that? It's a map of congressional districts that her political action committee targeted for special attention in the 2010 campaign. They used a graphic upon which certain congressional districts were denoted with a crosshair symbol.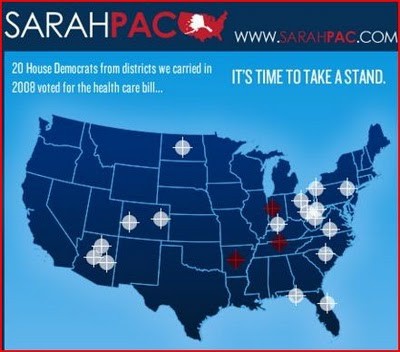 Memo to self. Buy a dictionary, put a sticky note on the page containing the word, "campaign" and send it to Keith Olbermann. In Webster's, the first definition of the word reads as follows;
1. a connected series of military operations forming a distinct phase of a war.
Military imagery has been used in politics going back to the Romans, Keith. Listen to the words for crying out loud – "rank and file," "campaign," "targeting," "battleground" state, "on the ground." What Sarah Palin did in her graphic was nothing new, nothing incendiary and had exactly nothing to do with what happened Saturday in Tucson. To draw a connection between a perfectly legitimate piece of campaign literature and the actions of a deranged sociopath would be laughable were it not so tragic.
It is quite appropriate to be angry about all of this. It is entirely inappropriate, however, to mindlessly blame those who hold opposing political views.
The simple truth is as follows.
The person who carried out this horror is not the first deranged sociopath to come along and he won't be the last. I have no idea, in a free society, how to legally and definitively identify sociopaths in advance. I have no idea where or how to keep them safely bottled up. And I have no idea how to keep them from ultimately acting on the malign voices in their heads or whatever it is that leads them to shatter the lives of innocent people.
But neither does the sheriff of Pima County, Arizona and neither does Keith Olbermann and neither does anyone else. Despite what some might offer as clichéd explanations or remedies, so long as we are human, we will remain consigned to living in a world where the most terrible things can happen without warning and for no good reason.
Which is why we pray for Gabrielle Giffords and all who suffer as a result of being near her on Saturday.
May the God who created them and first loved them gather them and hold them close.