A win for the First Amendment.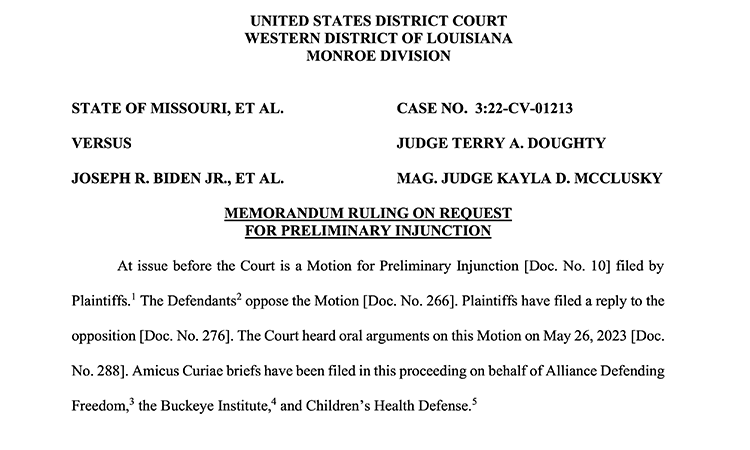 Paul Gleiser
A win for the First Amendment.
---
On July 4, a federal district court in Louisiana issued a 155-page injunction in the case of Missouri v. Biden, a case brought by the attorneys general of Louisiana and Missouri.
At issue is Biden administration skirting of the free speech clause of the First Amendment to the Constitution via the pressuring of social media companies like Twitter and Facebook to take down posts with which the administration disagrees.
Under the Constitution's First Amendment, the government cannot suppress free speech. But because Facebook and Twitter command such a huge proportion of the national discussion forum, the administration has been pressuring these platforms to suppress free speech by proxy.
Vigorous debate has been the hallmark of good government since at least the establishment of the Roman senate. Debate is anathema, however, to totalitarian statists. And the pandemic unleashed the very worst instincts of the statists in our American ruling class.
The pandemic triggered the "lockdowns" of 2020. Weddings and funerals were outlawed by fiat. Churches were told not to hold services. Local officials – many of them unelected – decided which businesses were essential and which were not. Non-essential businesses were ordered to close. Livelihoods were lost.
Kids were kept out of school. Clinical depression, suicides, drug use and domestic violence spiked. Basic liberties were curtailed in ways no one thought possible.
When Dr. Scott Atlas of Stanford University and Dr. Jay Bhattacharya of Harvard presented credible data to support the ending of lockdowns and mask mandates, rather than be invited to engage in debate aimed at finding the truth, at the behest of unelected bureaucrats in the federal government, these highly qualified experts were silenced on social media. Government did by proxy what it cannot do directly: abridge free speech.
Such is not democracy. It's totalitarian.
With the COVID template in place, when the 2020 election around and the New York Post's story of Hunter Biden's laptop took on the potential to affect the outcome, it was easy for the FBI to lean on Twitter and Facebook to suspend the Post's accounts.
Polls have since revealed that had that story not been suppressed, the 2020 election would have turned out differently.
And thus, the attorneys general of Louisiana and Missouri were moved to file suit. And thus, the court's injunction to stop the Biden administration while the suit is pending.
Attempts by Democrats to suppress free speech reveal a breathtaking level of condescension. What they are in effect saying is that average working, tax-paying Americans, lacking as they are in sophistication, high level connections and degrees from Harvard, Yale or Princeton, cannot be trusted to choose who will be president or how best to handle crisis. Such matters can only be trusted in the hands of an inner circle of mostly coastal, mostly Ivy League and mostly white, liberal elites. Any attempt to question or circumvent this presumed authority must be silenced by any means available, the legal niceties be damned.
It's all a clear and present signal that our republic is in very serious trouble.