Insisting on independence.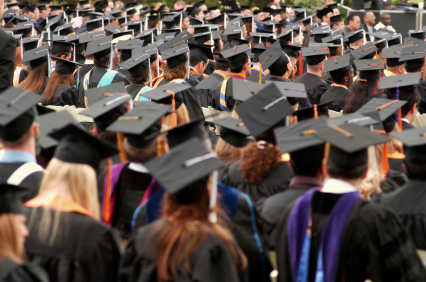 Click here to listen to the broadcast of You Tell Me on KTBB AM & FM, Friday, May. 20, 2011.
Across America in this season hundreds of thousands of young men and women are being handed their college diplomas. Across America, hundreds of thousands of parents of these young graduates are pondering the next question: What now?
That's because a distressingly small percentage of this year's college graduates will walk into jobs within their fields of collegiate study. Most will simply start thrashing around looking for work in a terribly weak labor market.
If you have a college-aged child, you are doubtlessly hearing anecdotal tales of kids earning high-priced degrees only to enter the workforce doing jobs for which a college degree is not even required. And that's if they enter the workforce at all. Because we almost all know of kids that finished college one or two or three years ago that are still not working and still living at home.
It is a particularly tough time to be finishing college. Employer appetite for promising yet inexperienced college graduates is particularly low at the moment. Graduates of the Class of 2011 are seeking to get connected in one of the softest labor markets of the past two generations.
Parents of these kids must therefore decide how long to permit them to live at home and remain on the parental payroll.
It's not an easy decision.
On the one hand, any decent parent wants to shield his child from suffering and anguish. No one wants to see a son or daughter struggle or be fearful or face uncertainty or suffer the consequences of unfavorable circumstances that he or she had no hand in creating. This weak economy is as unfair to aspiring young men and women as it is unnecessary in its duration.
But on the other hand, this is real life and we all have to face it some time. And it is absolutely true that success in life is much more about persistence and determination than it is about the hand one is dealt.
Children need to leave the nest and make their own way in the world and they need to do it as soon as possible. The completion of college is the right time for the vast majority. The sooner one starts figuring out how to survive and prosper in the real world, the better one's life will ultimately be. Nothing focuses the mind like the need to eat and have a roof over one's head.
The parental decision concerning kicking newly graduated college kids out of the house is a microcosm of our societal decision about dependency. Pushing a kid out in the world to make it on his or her own is almost always the best thing you can do for the kid. Parents who make it easy for kids to do nothing until the exact right thing comes along do them no favors.
So it is also, I believe, with respect to well-meaning but overreaching programs such as welfare, food stamps, housing assistance, Medicaid, unemployment insurance and other social assistance programs. While it may seem cold-hearted and insensitive to be constantly seeking ways to shrink the rolls of people dependent on these programs, particularly now, the narrowing of eligibility will ultimately better serve those that are now capable of self-sufficiency yet are nonetheless dependent on government for the basics of their own survival.
The parallel is almost exact. The easier you make it for a young man or woman to remain dependent on mom and dad, the harder it will be for them to ever break free and live on their own. At some point, it actually becomes impossible. And the easier you make it for otherwise able-bodied individuals to become dependent on government, the lesser the chance they will ever be self-sufficient. Again, at some point, it will become impossible.
Except for those that are truly incapable, deny the mechanisms of dependence, and you summon the animal instincts that lead to the productive behavior and the application of effort that brings forth prosperity for the individual as well as prosperity for society at large.
We are given by God the tools and the instincts to survive and prosper. It is a sin to avoid putting those gifts to the test.