The view from behind the tinted windows.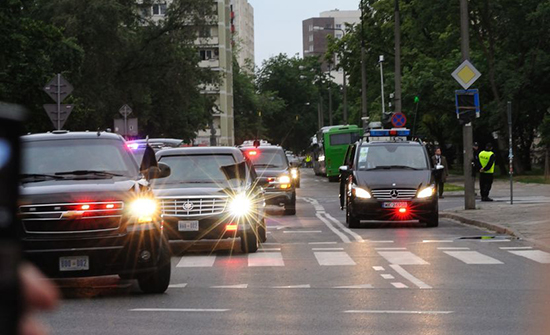 Listen To You Tell Me Texas Friday 9/4/15


Download
This story features Hillary Clinton but it's not strictly about her. Her appearance is incidental to the larger point and it's only because she happened to be Secretary of State when I saw what I'm about to tell you.
When my wife, daughter and I visited Washington, D.C. a few years back, we stayed in a hotel a few blocks from the State Department. Walking back to our hotel in the evening we passed the State Department just as its underground garage disgorged a motorcade.
With sirens screaming, out poured a phalanx of motorcycles, two or three of the requisite black Suburban SUVs and a cop car or two, all followed by an EMS ambulance. (No kidding. An ambulance.)
It was clear that Mrs. Clinton was on the move – in all likelihood finished at work for the evening and on the way home.
So life goes for you in the 21st century if you're a member of the ruling class in Washington, D.C. A small army attends your every move and your relative importance is judged by the size of that small army.
The ambulance really got to me. Certainly, if Mrs. Clinton were to be taken ill, or be involved in an accident or be the target of some violence while en route to her destination, she would want medical attention readily at hand. But so would you and so would I and neither of us is trailed about in our every move by an ambulance.
'Yeah, but none of us is Secretary of State,' you say. So what? I cannot imagine what harm would come to the United States if the Secretary of State had to wait – like all the rest of us – for an ambulance to arrive. The fact that Mrs. Clinton assigned one to herself – or being maximally charitable, allowed one to be assigned – tells you everything about her perception of herself.
Watching all of this, I said to my wife, 'I wonder how many people it took in 1939 to get Cordell Hull home from the office.' The answer that comes to mind is that he very well might have driven himself.
The arrogance attendant to summoning a cavalcade of vehicles and police, interrupting traffic and making as much noise as a Shriner's parade is worthy of some beribboned dictator from some banana republic somewhere. It is unbecoming in all but very specific cases involving officials of government anywhere in the United States.
If you want to know why Donald Trump is currently defying all received political wisdom, look no further than this story about Hillary.
Sure, I doubt that Donald Trump drives himself around. But, unlike Hillary Clinton, he somehow manages to not come off like a potentate. Trump is getting traction in large measure because he is sticking his thumb in the collective eye of the Ivy Leaguers and the power elites that look down upon us from the darkly tinted windows of their armored SUVs.
We the unwashed are saying, 'It's about time.'