Get out of the way and let me struggle.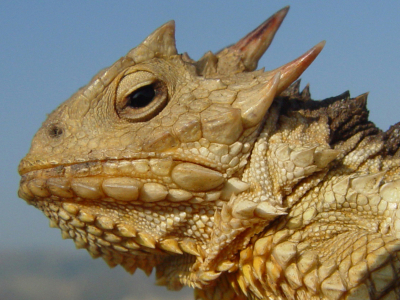 I was in a waiting room last week and there sat a Texas Monthly magazine with a picture of a horrible looking lizard creature on the cover and a headline that read, "The Struggle to Survive."
Upon seeing this lizard and being told that he's struggling to survive, I thought to myself, "To hell with him. I'm struggling to survive."
Every single living thing struggles to survive. The key difference is that humans have figured out how to struggle less while life is pretty much the same hard-scrabble deal it has always been for that ugly lizard.
At one time, getting enough food to eat on a daily basis was nearly as challenging for people as it is for Texas Horny Toads. But today, the lack of food isn't our number one nutrition problem. Having too much to eat is our problem.
At one time, adequate shelter and the ability to fend off predators was nearly as big a problem for humans as it is for squirrels and gophers and prairie dogs. Today, it's a crisis of huge proportions if the air conditioner goes out.
If you scale the entire 50,000 years of known human history to a period of just a half-century, we didn't even have air conditioning until sometime late last night.
For the first forty years on our scale, we know very little except for the fact that near the end of that 40 years, humans had figured out how to make clothing out of animal skins.
For about the next nine years and seven months, starvation, disease, pestilence and the tyranny of the strong over the weak ruled the daily lives of most humans.
It is only in the last couple of months or so of our 50,000 years-scaled-to-a-half-century that we have made starvation the exception, created shelters that largely render the outside climate irrelevant, turned most infectious diseases into easily treated nuisances and lopped off the heads of most of the kings and czars and potentates that at one time lopped off our heads.
Today we think we struggle. But it's a struggle of an entirely different nature. We now define survival as having a nice home and a late model car, getting our children into good schools and figuring out how to lose weight.
Our poor horned lizard, on the other hand, is still getting swooped down upon by large birds and taken off somewhere to be killed and eaten. And up until just a few weeks ago on our 50,000-to-one time scale, we weren't doing much better.
So on our compressed scale, what changed for us in June of this year?
I believe that the pivotal change was the taking root of capitalism on the North American continent. I believe that it is freehold tenure of land, and the right to own the means of production, and the right to keep the fruits of one's own labor, that set in motion the vast improvement of circumstances that had eluded humans for the first 49,750 years of their known history.
When set free, humans began doing an amazing job of solving their own problems. American farmers solved the food problem. Henry Ford solved the transportation problem. Curiosity-driven and profit-driven scientists in Europe and America brought antibiotics to market in the 1940s and solved much of the infectious disease problem.
America set an amazing example for the world and as a result, humans everywhere began to find their daily struggle more bearable.
American government, for its part, defended the peace, supported the currency, acted as impartial referee in the arena of the free market and otherwise pretty much got out of the way.
I say all of this as a caution following President Obama's speech on health care Wednesday evening. The ability to transplant a kidney successfully did not happen because of action taken following a well-crafted presidential address to a joint session of Congress.
The specific math of the health care proposals ricocheting around Washington is less troubling than the underlying equation. What bothers me most is the belief that only a massive intrusion of an overweening government can solve problems, despite the overwhelming evidence to the contrary within the pages of our own history.
Our health care affordability issues are, in my opinion, largely the product of the distortions introduced by an already too heavy government intrusion.
To solve the health care "crisis," shrink the government's role.
Don't expand it.