Our season of decline.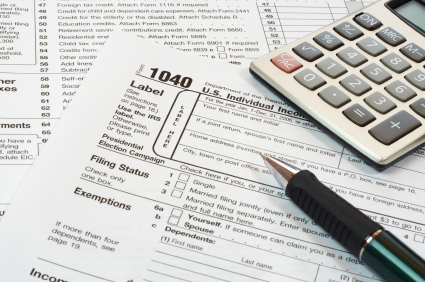 For most of us yesterday was the day that we filed our income tax returns. It marked the end of "tax season," an unfortunate label arising from the fact that the tax code is so complex, and requires such a huge diversion of otherwise productive energy, that an actual "season"  for it is required.
How much time did you spend on your taxes? How many of you had to hire someone to help you lest you make a mistake and find yourself in the crosshairs of the IRS?
It may surprise you to know that nearly half of your fellow citizens, 47 percent to be exact, are happily exempt from that heartache, up from 40 percent just five years ago.
By 2012, when we again select a president, it is entirely possible that the number of those voting who don't pay income taxes will outnumber those that do. This is true despite the fact that government spending has exploded and the deficit has nearly quadrupled in just two years.
Two hundred thirty five years ago on Sunday, the "Shot Heard Around the World" was fired at Lexington, Massachusetts, marking the beginning of the American Revolutionary War. That was a war fought over the objection to taxation without representation.
Today, we are moving rapidly toward representation without taxation.
We have bigger government, bigger bureaucracy, bigger deficits and bigger debt all borne by a shrinking proportion of citizens who actually pay taxes.
This is not really a tax system at all. It is a legal mugging. It is government-sanctioned class and generational warfare. The shrinking tax roll is a cancer eating at the very morality of taxation.
If you are one of the ones still paying taxes, it is fair to ask what you're getting in return for your continued fiscal rectitude.
Today 20 percent of all American households derive three quarters or more of their household income from the federal government. Another 20 percent rely on the federal government for 40 percent of household income. Thus four out of ten Americans are now dependent on the federal government and that's before the implementation of ObamaCare.
At one time, Americans paid their taxes and got something tangible and useful in return. The Interstate Highway System comes to mind. We paid our taxes or purchased savings bonds and things got done.
When the Allies needed oil to fight World War II, we laid a 24-inch pipeline from Longview to Linden, New Jersey in just 54 weeks and used the resources of the East Texas oil field to help gain victory over a murderous tyrant.
We paid our taxes and put men on the moon.
In a cruel irony it being tax day yesterday, President Obama gave a speech to employees at the Kennedy Space Center at Cape Canaveral, Florida in which he tried to explain how the ending of America's manned space program and the ending of 7,000 or more of their jobs is good for America.
The nation that led the way in space will soon have to go hat in hand to Russia (together with a check for $51 million per head) in order to thumb a ride into space. President Kennedy said in a speech at Rice University in September 1962 that the exploration of space will go ahead, whether we join in it or not. He was right. Ask China and Russia.
But it's not about spaceflight per se. It's about the larger issue of ceding our leadership in the world. Stay on this course, and one by one, in every area of business, technology, medicine, manufacturing, science, commerce and military power, where America is now the leader, that leadership will be sacrificed upon the altar of redistribution and entitlement.
Today 53 percent of Americans are propping things up not only for the other 47 percent but for most of the rest of the world. What happens to America when 51 percent of non-taxpaying citizens outvote 49 percent of citizens who still pay taxes? What happens when 60 percent outvote 40 percent? Or 70 percent outvote 30 percent?
At some point, very soon, the tipping point will be reached and those who continue to strive and work and invest and hire and generate taxable income will just decide it's not worth it.
When that happens, how will what we leave our children compare to what we inherited?
Who will lead the world then?