The servants become the served.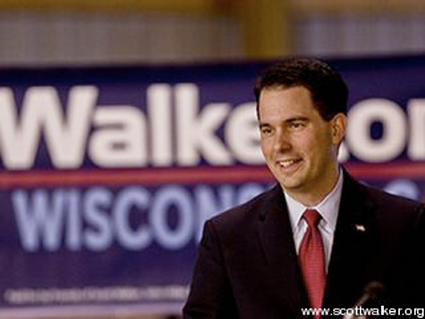 Click here to listen to the broadcast of You Tell Me on KTBB AM & FM, Friday, Feb. 18, 2011.
I was never a great math student but yet I always appreciated the fact that math is not subjective. I had several arguments with English teachers along the way on matters of punctuation and usage and sentence construction. Those arguments were never clear-cut and I won some and I lost some.
Not so with math. It was either right or wrong. Six times eight equals 48 for white people, black people, Republicans, Democrats, Poles, Swedes, Russians, Catholics and Jews. No matter how fervently one might believe that six times eight ought to equal 50, it never will. Math is not subjective.
Neither is an income statement. Expenses that exceed revenues by $3.6 billion will result in a negative bottom line number every time, no matter who voted for you.
Such is what newly elected Wisconsin governor Scott Walker faces. He took office just last month and is faced with a $3.6 billion deficit that must be addressed by one means or another.
In government just as in business, it is employees that consume the vast majority of the money. Payroll and payroll overhead always account for the majority of expenses.
Thus Governor Walker, like any other executive who must bring expenses in line with revenues in order to survive, is looking to payroll costs as the most likely area in which to effect needed savings.
Wisconsin public employees, including school teachers, have a benefits package that only a government would have ever created in the first place. For decades, politicians have been buying public employee union campaign money and union votes by making lavishly rich deals for government employees. Public employees in Wisconsin don't have a Cadillac health plan. They have a Rolls Royce health plan that costs the taxpayers of Wisconsin $22,000 per state employee. State employees in Wisconsin contribute not a single dime to the cost of their health coverage and not a single dime to the cost of their retirement plans.
Post 2008 housing and financial sector meltdown, those plans are no longer sustainable. And the governor is asking state employees and teachers to contribute the equivalent of seven percent of their gross pay toward funding their own benefits packages.
The result: Wisconsin of 2011 has become Greece of 2010. Employees have taken to the streets in protest. Thousands of teachers have called in sick, resulting in the closing of schools. The Democrats in the Wisconsin state legislature have fled to Illinois in order to prevent a quorum for the purpose of voting on the governor's proposals.
All because state employees are being asked to do what you and I do as a matter of course – pay for our own retirement and contribute to our own health care.
While we were living large on inflated home prices and easy money on our MasterCards, public employees were busy turning the tables on us. They are now the masters and we are now the servants. We in the private sector now must work in order to serve them.
So they believe so strongly that they have taken to the streets.
We can only hope that Governor Walker of Wisconsin holds his ground. Because this is just the first battle in what is likely to be a long war.
We hope that however painful the process is, that fiscal sanity is restored in Wisconsin so that other state governors will have an example to follow.