Rich liberals on wage inequality.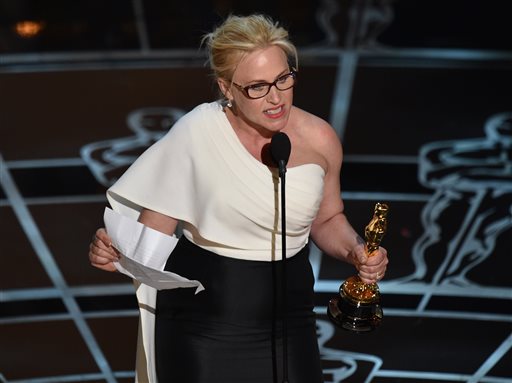 Remind me never to watch the Academy Awards telecast again. The older I get, the less amused I am watching a bunch of spoiled children congratulate themselves for being good at make believe. Inflicting the Oscars telecast upon myself serves only to raise my blood pressure and ruin my mood.
My hypertension hit a high spike when Patricia Arquette took to the podium to accept her award for best supporting actress. Instead of simply saying, "thank you," (which would require graciousness that is in ever-dwindling supply among our glitterati), Ms. Arquette took the opportunity to say,
"It's our time to have wage equality once and for all and equal rights for women in the United States of America."
I find the irony of a woman who is paid millions of dollars for a few months' work shrieking about wage inequality almost too much to bear. It's made worse when you learn in the course of the telecast that each Academy Award nominee was given a "goodie bag" containing items and services having an aggregate value of approximately $180,000 — an amount almost four times the U.S. median annual household income. (Proof again, as if proof were needed, that there is no greater hypocrite in the solar system than a rich liberal.)
But more to the point, the very premise of wage inequality between men and women is fatally flawed. Uninformed libs hang their impassioned cries on census data that says that over their lifetimes, women earn only 78 percent of what men earn. But that's misleading. Men and women actually are different (as much as liberals and feminists would have you believe otherwise) and those differences have an impact on lifetime earnings.
Declining fertility rates notwithstanding, the majority of women will have at least one child before the age of 45. Even in households with an engaged father and husband, women shoulder a disproportionate share of the child-rearing duties. Not surprisingly, women of child-bearing age gravitate to job opportunities that accommodate their duties as mothers. That accommodation often includes part-time work or a leave of absence from the workforce — both of which have an impact on lifetime earnings.
However, when you directly compare job title, education and tenure, the wage gap between men and women all but disappears. Women who choose not to have children, and who are thus as unconstrained in their career choices as men, will on average earn in their lifetimes nearly dollar-for-dollar what their male peers will earn.
It is also worth noting that according to the latest census data, women under the age of 30 are now earning on average eight percent more than men. We already know that women are now the recipients of the majority of college degrees.
The wage inequality fight is yet another rancid leftover from the 1960s — a time for which liberals have a very special nostalgia. The 1960s are now a half century in the past and yet liberals insist on continually re-litigating the issues of that odious decade.
What do you bet that Patricia Arquette has never heard of Marilyn Hewson or Phebe Novakovic? (What do you bet that not a single person inside the Dolby Theater where the Academy Awards show took place has ever heard of them?) Both happen to be not only CEOs, but CEOs of very macho companies. Ms. Hewson is paid $15.7 million to run Lockheed Martin, the maker of, among other things, F-16 fighter jets. Ms. Novakovic is paid $18.8 million to run General Dynamics, which among other things, makes submarines for the U.S. Navy.
That Ms. Arquette is paid the same kind of money as these two highly capable women to create nothing more than make-believe and yet wails on TV about wage inequality would, taken altogether, be laughable — if it weren't so cosmically irritating.
Like I said, remind me to miss next year's Academy Awards telecast.