If a flag is the problem, let's get rid of it now.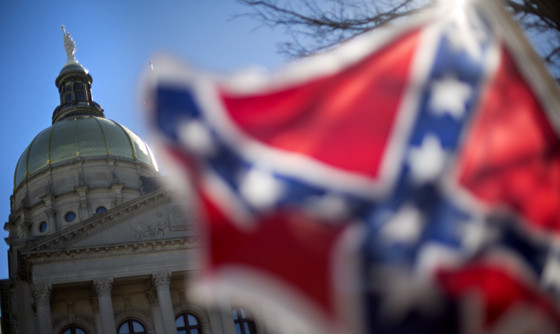 Listen To You Tell Me Texas Friday 6/26/15


Download
Let's take down every Confederate flag. Let's get Confederate merchandise off the shelves in stores. Let's decide that having a Stars 'n Bars bumper sticker on your car is as socially unacceptable as smoking in an elevator.
Let's go on to purge ourselves of all visual reference to the Confederacy. Let's rename any thoroughfare, park or public building that bears the name of a Confederate figure. Let's take down any offending statues.
If the shadow of the Confederacy is so pervasive and so dark as to be keeping black Americans from achieving economic success, and if removing vestiges of the Confederacy will solve that problem, then let's get on with it.
Apparently, icons of the Confederacy have such power that once they are gone, black Americans will at last be able to achieve the same kind of economic success that white Americans have achieved.
It is, after all, the "legacy of slavery," of which images of the Confederacy are symbolic, that is keeping black Americans down while driving young white men to homicidal rage. Or so you might believe by listening to the self-righteous pronouncements of the Left.
To my knowledge, I own nothing bearing the likeness of the Confederate flag. Truth be told, I have come to associate those who sport Confederate flags with a certain red-necky, southern lowbrow-ness that is altogether clichè.
I wouldn't have a Confederate flag on my property or on the bumper of my car and neither would any of my friends.
However, I'd happily support banning them altogether if I thought doing so would help more black Americans move into the middle class.
Alas, it doesn't work that way. The growing cohort of black American families who have succeeded in joining the middle class have had to do so pretty much the same way as everyone. They have stayed in school, stayed out of trouble, stayed off drugs, worked hard and accepted personal responsibility for their own lives.
I concede that among blacks of every class, Confederate flags probably rankle. The image of Charleston shooter Dylan Roof holding a pistol and a Confederate flag is indeed hard to shake.
Nevertheless, black race hustlers and pasty-white self-righteous liberals going on about removing Confederate flags from the public square will accomplish exactly nothing.
The "legacy of slavery" – to whatever extent embodied in that flag – did not turn Dylan Roof into a delusional homicidal madman. The "legacy of slavery" comes nowhere close to being the biggest problem facing black Americans.
The breakdown of the black family, a staggeringly high dropout rate, unwed teen births, a much higher propensity to use drugs and a culture that associates education with "whiteness," – and thus a betrayal of one's race – all account for more of the disparity between white and black achievement than does some centuries-old "legacy."
So, I'm fine with taking the Stars 'n Bars down. But only if we then resolve to finally, and honestly, begin addressing what's really holding black people back.