How are these people "mainstream?"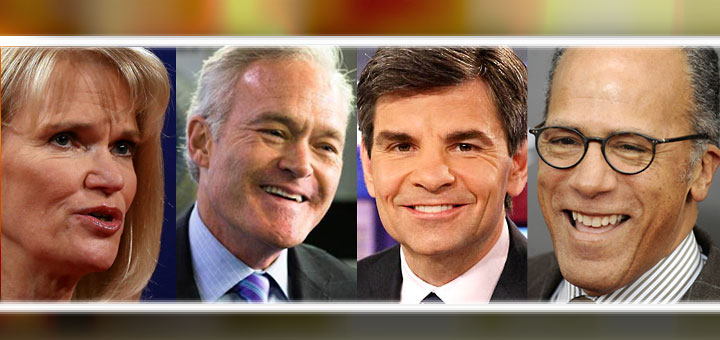 Listen To You Tell Me Texas Friday 12/2/16


Download
Why do we still call it the "mainstream media?" Who among the pretty TV news faces lives or works in anything resembling the mainstream of American life?
Who among those well-coiffed heads lives in a modest home on a modest street in a modest city like Terre Haute, Indiana or Amarillo, Texas? Who among them has kids in public school?
Looking at it from the other side, who in Terre Haute regularly dines where a glass of wine costs $20 and an entrée costs $50? How many people in the mainstream of your life have someone to drive them to work, someone to fetch their lunch and someone following them around to fix their hair?
How many personal assistants do you have? Who makes your travel arrangements? How frequently do you fly first class or by private jet?
How many commas are there in your annual salary? If you're among the majority, not two.
So what, exactly, about the lives of our media elites is mainstream? The upper crust precincts of New York City and Washington, D.C. are about as far removed from the American mainstream as you can get.
The top executives, top reporters and marquee anchors at all of the 'mainstream' media outlets lead lives that bear little resemblance to the lives of us out here in the provinces.
No one is paying for your clothes. No restaurant will make space for you when it's telling everyone else that calls that it's fully booked that evening.
In all likelihood, your cell phone does not have in it the personal cell phone number of any show business celebrity, big city mayor, Fortune 500 CEO or cabinet secretary.
You drive yourself to work, fix your own hair and put your kids in public school. You're raising a family, paying a mortgage, paying taxes and working every day in order to earn a middle class income that hasn't kept up with inflation in a decade or more. You are likely more than a little bit concerned about paying for college and having enough for retirement.
It is you and your friends, neighbors and coworkers who comprise the American mainstream. You are part of the giant demographic cohort that media elites look down upon (when they bother to look at all).
Which explains why no one – repeat no one – in the 'mainstream' media saw the Trump victory coming. Not one.
RELATED: The Canary in the Coal Mine
So cut off from the mainstream is the elite media cloister that none of the "experts" inside it were even vaguely aware of the growing unrest among the peasants.
Paid in the millions of dollars, given the best possible access and believing themselves to be the smartest in the room, our media elites completely and utterly blew it.
It's time, then, for a new label. Let's start calling them the 'East Coast Media.' That's accurate. Or the 'Parallel Universe Media.' Even more accurate.
But enough with 'mainstream.' As they demonstrated in 2016, these people have no connection to the mainstream at all.