A rich contrast.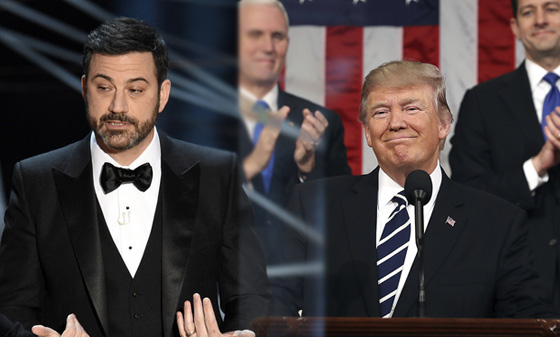 Listen To You Tell Me Texas Friday 3/3/17


Download
The juxtaposition of the Academy Awards broadcast on Sunday night and President Trump's speech to a joint session of Congress the following Tuesday is just too rich.
Said Jimmy Kimmel in his opening monologue at the Academy Awards:
This is being watched live by millions of people in 225 countries that now hate us."
Thus began Hollywood's completely predictable bashing of President Trump that carried on throughout the broadcast.
Beginning some time ago, and continuing by degrees year-by-year to the unbearable lows of today, the Academy Awards ceremony has devolved from a celebration of high achievement in the art of filmmaking to a shrill, fact-starved political snarkfest put on by the self-righteous Hollywood Left.
Here's another example in this delightful gem from Jimmy Kimmel:
Some of you get to come on this stage and make a speech that the President of the United States will tweet about in all caps during his 5 a.m. bowel movement…"
Due in large measure to the fact that those not pathologically and rabidly opposed to Donald Trump knew what was coming (and also because, let's face it, movies aren't really that good anymore), millions who might otherwise have watched the Oscars found something else to do or something else to watch. The broadcast was the least-viewed Oscars ceremony in nine years, reaching only 32.9 million viewers. (By comparison, the 1998 Academy Awards reached an audience of more than 57 million.)
Jump ahead 48 hours from the Oscars telecast Sunday evening to the joint session of Congress Tuesday evening. The object of all that lefty derision, President Donald Trump, spoke to 48 million viewers and knocked their socks off.
In contrast to the snotty nastiness of the Hollywood elite, the president's speech fairly brimmed with optimism. The president spoke of a strong, resolute, opportunity-filled America – something we haven't heard from a president in a long, long time. He literally and rhetorically reached across the aisle on multiple occasions. Unlike his predecessor, at no time did he seek to divide Americans into aggrieved victim groups. Said the president,
We are one people with one destiny. We all bleed the same blood. We all salute the same great American flag. And we are all made by the same God."
Contrast that with Ezra Edelman, director of the 'best documentary' Oscar winner, who dedicated his win to,
The victims of police violence, police brutality, racially motivated violence and criminal injustice."
Ending the evening as it did by announcing the wrong winner for 'best picture,' the Academy Awards broadcast – the premiere Hollywood event – can fairly be characterized as something between disappointment and disaster.
The president's speech 48 hours later can only be called a triumph.
Liberals like to amuse themselves with the mental caricatures that they have created of Donald Trump. Donald Trump for his part has repeatedly made fools of those who would reduce him to caricature.
And yet, smug and condescending as they are, our elite libs keep coming at him, utterly lacking even the slightest self-awareness.