Two bad stories in one.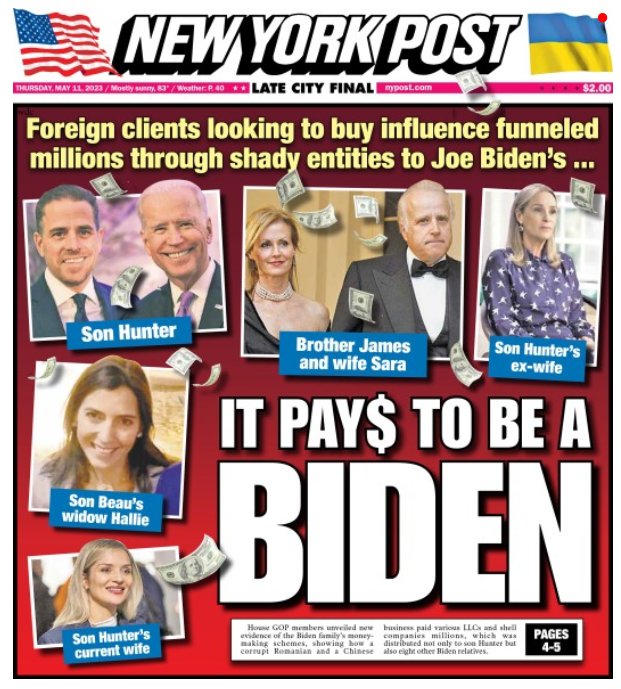 The front-page headline of Thursday's New York Post said it all.
Paul Gleiser
Two bad stories in one.
---
"IT PAY$ TO BE A BIDEN."
I can't decide. Is this column about corruption in government? Or is it about corrupt and dishonest media?
It was the Post's Miranda Devine who broke the story of the laptop computer that Hunter Biden left unclaimed at a Delaware computer repair shop. When the repair shop owner took legal possession of the computer for non-payment of charges, he discovered material that was so disturbing he felt compelled to turn it over to the FBI.
The FBI, for reasons that can only be political and are thus corrupt, sat on the computer. The frustrated shop owner then gave the contents of the hard drive to former New York City mayor Rudy Giuliani, who at the time was Donald Trump's attorney. Giuliani, in turn, provided the contents of the laptop to the New York Post.
Thank heaven. Because otherwise, we would be completely unaware of corruption that goes to the very top of the American government.
When Miranda Devine broke the story in the Post, the Big Tech social media sites and the legacy media went to extraordinary lengths to kill it. But they couldn't keep Republicans from regaining control of the House of Representatives.
House Oversight committee chairman James Comer, as he promised he would do, has formally taken up inquiry into Biden family doings as first revealed on Hunter's laptop. The emerging picture is breathtaking.
Following up on emails between Hunter and his father – then vice president and now President of the United States – Comer's committee has obtained bank records that make it uncontestably clear that foreign governments – with the Chinese leading the way – funneled $10 million to members of Joe Biden's family. The money flowed via a web of limited liability companies formed for no other apparent purpose than to conceal the payments.
The skies rained cash. Hunter, his girlfriend (a.k.a. his brother's widow, Hallie Biden), Joe Biden's brother, James, Hunter's ex-wife, his current wife, three Biden children and one grandchild all received money from foreign nationals (and, again, mostly China) — all while Joe Biden was vice president.
Comer sums up Joe Biden's oft-repeated denials of any knowledge of his son's business dealings like this:
The Bidens have received millions of dollars from China. It is inconceivable that the president did not know it."

https://www.youtellmetexas.com/wp-content/uploads/2023/05/james-comer-incnceivable-biden-didnt-know-it-05-10-23.mp3
So, what services were provided in return for all that money? Well, that's the thing. No services were provided. Hunter Biden has no marketable expertise in anything. The only thing that Hunter Biden had to sell was his last name, about which no one would care if his father wasn't the vice president and capable of influencing Obama administration policy. Hunter was selling access to his old man. Only the hopelessly naïve or the willfully blind can believe otherwise.
So, it's two stories. It's the biggest government corruption story in living memory.
It's the media actively avoiding it.
Neither bodes well for the health of the republic.