The train of abuses.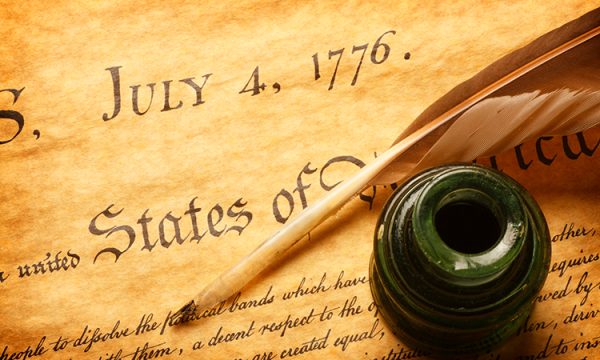 Today marks, for practical purposes, the beginning of a four-day holiday that culminates in Tuesday's celebration of the Declaration of Independence, which was ratified by the Second Continental Congress and read to the assembled crowd in Philadelphia for the first time on July 4, 1776.
Most of us know, because it was well taught when we were in school, the money quote from that document:
Paul Gleiser
The train of abuses
---
We hold these truths to be self-evident, that all men are created equal."
Maybe at bit less well-known is the passage a bit further down that says,
…when a long train of abuses and usurpations, pursuing invariably the same Object evinces a design to reduce them [the people] under absolute Despotism, it is their right, it is their duty, to throw off such Government…"
That's the passage we might better focus our attentions upon as we mark Independence Day 2023. Because the train of abuses is long and getting longer.
It's now obvious that the current president has taken millions in bribes from America's strategic adversaries. It's now indisputable that his son, Hunter, has evaded taxes on millions of dollars of income.
Yet, the same government that would impeach a similarly compromised Republican president while imprisoning his tax evading son is studiously ignoring the bribery while letting the wastrel son off with a wrist slap.
We now know beyond doubt that Joe Biden took classified documents with him when he left the vice presidency. We know that he stored them in unsecured locations all up and down the Eastern Seaboard.
In 2016 it was beyond dispute that then-candidate Hillary Clinton had committed multiple felonies with respect to her handling of classified material during her tenure as secretary of state. It subsequently became equally clear that Mrs. Clinton obstructed justice and destroyed evidence connected to the government's investigation of those felonies. Yet unlike Hunter Biden, who is at least being convicted of a couple of misdemeanors, Mrs. Clinton was let off scot-free.
Meanwhile, on the other side of the political aisle, former President Donald Trump stands indicted on 37 felony counts related to classified documents in a case that, from the outside, doesn't look a lot different from Joe Biden's classified documents case. Former Trump aides and associates Roger Stone, Gen. Michael Flynn and George Papadopoulos were all convicted of process crimes and all served at least some time in jail.
Beginning in 2016 and continuing to this day, the FBI and the Department of Justice have brazenly sought to substitute their judgement as to who should be president for that of the American people.
It's clear that in 2023 we're no longer created equal. A small number of the wealthy and well connected in the ruling class enjoy privileges and immunities that are unavailable to you and me — the very thing for which the Founding Fathers and American colonists were willing to take up arms against the mighty British army.
The 'train of abuses' in the late seventeen hundreds became long enough to spark the American Revolution.
The question that should frighten every American in 2023 is, how long before this current train of abuses sparks a second one?