WikiLeaks revelation: U.S. government not terribly competent.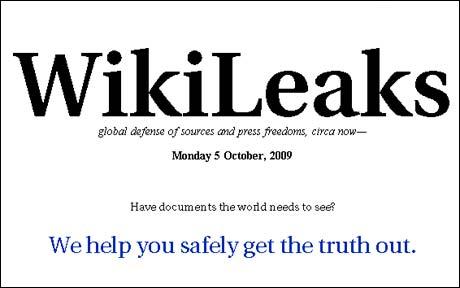 Click here to listen to the broadcast of You Tell Me on KTBB AM & FM, Friday, Dec. 10, 2010.
The WikiLeaks story is simply staggering. In case you've missed it, the website WikiLeaks has, over the past year, released on the Internet classified U.S. documents regarding the Iraq War, the war in Afghanistan and most recently, confidential cable transmissions from U.S. embassies around the world.
The documents apparently run the gamut from embarrassing at best to dangerous at worst. And apparently, much of what has been released came as a result of a low-level Army private who had access to the documents and proceeded to turn them loose.
The administration, Secretary of State Hillary Clinton and diplomatic personnel all over the world are up in arms over the affair.
The WikiLeaks episode is bad news for average Americans for multiple reasons. But the chief reason is because it reveals a profound incompetence on behalf of the United States government at a time in our history when that same government is expanding into nearly every aspect of our lives.
Consider this, as one example.
One of the provisions of the Patient Protection and Affordable Care Act of 2010 (a.k.a. Obamacare) is that your health records will be stored in electronic form across a nationwide computer network. So think about sharing your most intimate health details with your doctor. Think about the record of that exchange existing on a national electronic health records (EHR) network.
Then consider some low-level pharmacy tech with access. One can easily imagine such an employee setting up a little side business that provides employers, business rivals, plaintiff's attorneys and other malign third parties health information on targeted individuals – such as you for example – for a discreet envelope full of cash.
Oh yes, I know, the law contains all sorts of high-sounding language about patient privacy and protection of private information. But if the federal government cannot protect even its own secrets, as we have seen in the WikiLeaks fiasco, how can it possibly protect yours?
The larger story here is competence. To those who imagine that a bigger government is a good thing for American citizens, I ask, show me how that's so. To my eye, the larger the U.S. government grows, the less competent it becomes.
The postal service is losing billions of dollars and is insolvent. Social Security, Medicare and Medicaid are all broke. Amtrak is running money-losing trains all over hill, valley and plain. NASA has lost its way and soon will be unable to even put a monkey into space. Only the incompetence of the shoe bomber and the underwear bomber – and not the crotch-groping employees of TSA – averted what would have otherwise been catastrophic terrorist incidents aboard commercial airliners. Securities and Exchange Commission employees that filled their government computer hard drives with porn remain on the government payroll.
And speaking of the government payroll, the average government employee now works less, gets paid more and has better health and retirement benefits than his or her counterpart worker in the private sector.
If you remain a committed big-government liberal, how much objective evidence will it take to bring you around?
Government is, by its very nature, inefficient, bumbling, tyrannical and antithetical to individual freedom. That's why the founders so strictly limited the government when they drafted our founding documents.
I ask again, if the U.S. government can't even protect a diplomatic secret, what then can it do?