Who's it gonna be, GOP?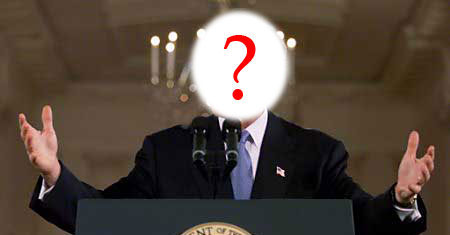 Click here to listen to the broadcast of You Tell Me on KTBB AM & FM, Friday, Feb. 25, 2011.
At one of two certain dates in the future, the Obama presidency will come to an end. Those of us who stand appalled at the results of the first two years of Obama's administration fervently hope that that date turns out to be January 20, 2013, the inauguration day of the new president who takes Obama's place as a result of winning the November 2012 election. Otherwise, the most big-spending, activist, redistributionist president in modern times will hold the office until January of 2017. The mind boggles.
If it is to be the earlier of the two dates for someone to arrange Obama's exit, time is growing perilously short.
By this time in the failed administration of Jimmy Carter, we knew that Ronald Reagan was out there. His narrow defeat for the nomination against Gerald Ford in 1976 had positioned him as the clear favorite to win the nomination in 1980, which of course he went on to do.
No such figure exists today. A few days ago, Senator John Thune of South Dakota announced on his Facebook page that he is out. A couple of weeks ago, Rep. Mike Pence, a solid conservative from Indiana whom some considered a dark horse possibility, did the same thing.
As of now, the only Republicans whom we can say with a high level of certainty are in the race are Tim Pawlenty, the former governor of Minnesota and Mitt Romney, the former governor of Massachusetts.
Hanging around on the periphery are Mike Huckabee, the former governor of Arkansas, who incidentally will be in Tyler on March 13 signing his book at Hastings, and former Speaker of the House Newt Gingrich.
A close friend and colleague has bet me a lobster dinner at the Palm that Obama gets re-elected in 2012. I contend that the November 2010 election was not an isolated event and that presidents who are running against persistent high unemployment and weak economic growth, both of which are likely to still be the case in 2012, have a very hard time getting re-elected.
But with that said, Obama will be a formidable opponent for whomever the Republicans nominate and none of those in the field today excite the way Reagan did in the last two years of the Carter administration.
Newt Gingrich has a bunch of personal baggage. Mitt Romney pushed a health care plan through in Massachusetts that is disturbingly similar to Obamacare. Cries of hypocrisy when he runs against Obamacare will be hard to drown out. Huckabee and Pawlenty suffer from poor national awareness and also, unfairly to be sure, from having unusual last names. (Oh, wait, how many Obamas are there in the Tyler phone book?)
And then there's Sarah Palin. No one knows what her plan is but I, for one, hope that it doesn't include a run for the White House. She has just become too big a caricature of her own persona. I think Obama would annihilate her.
Bottom line. I'm nervous. I'm not fired up about any of these potential candidates and time is growing short.
I know it's 19 months until November of 2012 but that is not much time when you consider that Obama will come to the race with close to a billion dollars in his war chest.
So who do you think it should be? I confess to being at a loss. Am I wrong here? I'd sure like to be.