No Police. No Peace. It couldn't be simpler.
Police officers are human beings. A police force is therefore not any different than any other organization. It is a collection of human beings gathered together for a specific purpose.
Humans being what they are, any gathering of them is bound to have some bad apples.
But to the great credit of police forces big and small in cities across America, the bad cops are the exception. Which is why we live in our neighborhoods, shop in our stores and go about our daily business with little real expectation that we will come to harm on any given day – particularly at the hands of the police. For that, we are less grateful than we should be.
In the wake of the cold blooded murders of two New York City police officers in Brooklyn this past weekend, the hustlers and race-pandering politicians that have been fulminating about police racism since the Ferguson and Staten Island grand jury decisions are now all hiding in the tall grass.
And the so-called "protesters" who have been chanting bilious crap like, "What do we want? Dead cops!" would be the first to cry racism if the police just decided to pull out of their neighborhoods and stop answering calls.
The simple truth about the police is this, No Police. No Peace.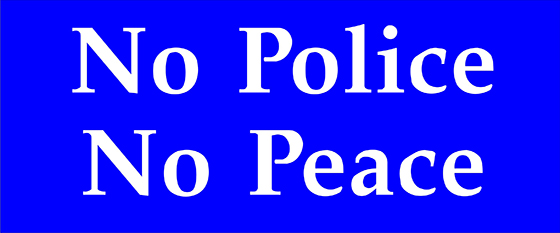 It's a pretty good bumper sticker I think. In fact, send me a business sized envelope and I'll send you one.
KTBB Radio
P.O. Box 9400
Tyler, TX 75711
And if you'd like to help the families of those two slain officers, send a check made payable to:
Silver Shield Foundation
870 United Nations Plaza, 1st Floor
New York, NY 10017
The Silver Shield Foundation was established by the New York Yankees baseball club and one of its missions is to help the children of slain New York City police officers. The Silver Shield Foundation is a not-for-profit 501 (c)(3) charity and your donation is tax deductible.
Send a check along with your request for a No Police No Peace bumper sticker and we'll forward your check on your behalf.
No Police. No Peace. It's as simple as that.