Obama's end-of-term spin.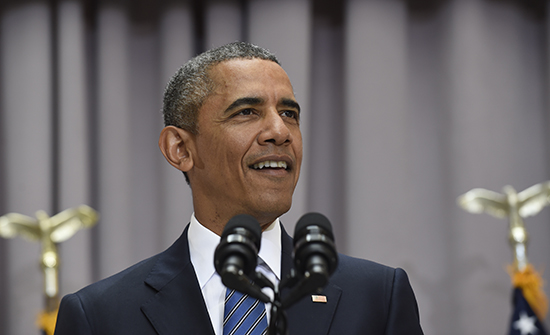 Listen To You Tell Me Texas Friday 8/7/15


Download
Late in his term as it now is, President Obama is actively working on crafting the language of his legacy. I can't think of a more difficult job but he and his apologists are out putting a happy face on some tough facts. They are saying things that are either completely false or only technically true. Here is an example.
"We are currently enjoying the longest period of private sector job creation in American history."
Note that they say "the longest period" rather than "the largest number of jobs."
The statement is technically true in the same way that it is true that a totally dormant passbook savings account with a $10 starting balance generates "record earnings" every year. Each year's earnings on that account are, in fact, greater than the previous year. But those earnings still constitute a paltry sum of money.
While it may be true that private sector job growth has occurred for a record number of months, it is far more significant that the total increase in the number of private sector jobs is at its lowest pace since 1977, when Carter was president. The rate of job creation is not even keeping pace with the number of young people who are coming of age and ready to enter the workforce.
Most of the job creation during the Obama years has consisted of part-time employment. Part-time employment now comprises a higher percentage of total working hours than ever before in our history. This partially explains the more than $5,000 drop in median household income since 2008.
The labor participation rate is dismal. More than 60 million people who had jobs prior to the 2008 recession are now totally out of the labor force, having simply given up. This cohort is not counted in the unemployment rate. Put capable, working age adults who have stopped looking for work back in the denominator by which unemployment is calculated, and the unemployment rate would be double what is currently being reported
In all of this, the young are particularly hard hit. Recent college graduates are either unemployed or under-employed to the tune of over 40 percent of the graduating class of 2014. Tens of thousands of young men and women are having an extraordinarily difficult time finding jobs that are commensurate with the time and money spent earning their degrees. It is sad but not surprising to see that a disturbingly high percentage of recent college graduates are moving back in with their parents.
Obama and his apologists can try to spin it however they want. But spin isn't reality. The reality is that the economy is weak and that weakness can be seen in the low number and the low quality of the jobs it is creating.
It will be interesting to see what Hillary does with Obama's end-of-term spin. Somehow I doubt she'll be using much of it. Because no matter what the Obamacons may be saying, it's not what the American people are feeling.