The real problem here.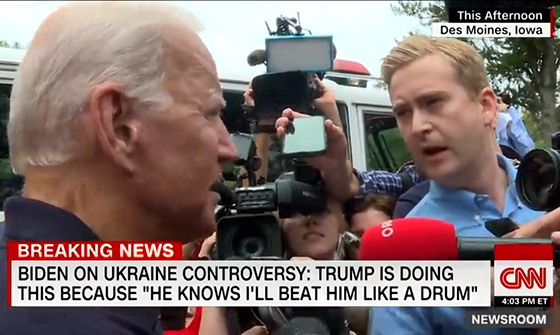 In September 2019, Fox News Channel's Peter Doocy had this exchange with Joe Biden.
Paul Gleiser
The real problem here.
---
PETER DOOCY: "Mr. Vice President, how many times have you ever spoken to your son about his overseas business dealings?"

JOE BIDEN: "I have never spoken with my son about his overseas business dealings."

https://www.youtellmetexas.com/wp-content/uploads/2022/04/joe-biden-ive-never-spoken-with-my-son-about-business.mp3
Thanks to the reporting of The New York Post, we now know that Biden was lying.
Material on a laptop that Hunter abandoned at a Delaware computer repair shop, together with a mountain of evidence that continues to grow, makes it clear that Joe Biden not only spoke with Hunter about his business dealings, he aided and abetted those efforts and profited handsomely for so doing.
In what should have won the Post a Pulitzer Prize, the Hunter Biden laptop story broke on October 14, 2020 – a mere three weeks before the 2020 presidential election and just eight days before the final debate between Biden and then-president Donald Trump. At that debate, Trump confronted Biden about the laptop revelations and Biden again denied having any knowledge of Hunter's overseas business dealings.
The story was vigorously denounced by Biden and the Democrats as "Russian disinformation." Twitter suspended the Post's account, citing a violation of Twitter's policy regarding the dissemination of "private" information. Any Twitter user that tweeted a link to the Post's story also faced possible suspension.
For its part, the legacy media showed no curiosity about the story at all. They simply ignored it. All have since been forced to acknowledge, however reluctantly, that the Post's reporting was correct.
Now we learn that there is a $5.2 million discrepancy between Joe Biden's tax returns and what he provided on his congressionally mandated financial transparency disclosures. That is to say that Biden reported more than $5 million in income to the IRS that he doesn't bother to explain to us. So, where did the cash come from? It's a fair question.
But just as it was with Hunter's laptop, it's not a question that the left-wing media wants to ask. Again, with a juicy story right in front of them, the legacy media shows zero curiosity.
As cliché as it has become to say so, the outrage is this. If you keep the same set of facts but change all the last names from Biden to Trump, the very same reporters who hitherto showed no curiosity about incriminating emails and $5.2 million public disclosure discrepancies would be immediately transformed into patriotic, first amendment-waving Defenders of Democracy. They would be relentless.
According to a poll taken just after the 2020 election, one in six voters would said they would have changed their votes for Biden had they been aware of the laptop story that was suppressed by the media. Put simply, rather than report on an election outcome, the media sought to bring about an election outcome.
So, I'll say it again.
Corrupt politicians aren't the real problem. We'll always have them.
The problem is the media. And it's one that threatens the very survival of the republic.