Forget Obama's Katrina. What about his Dunkirk?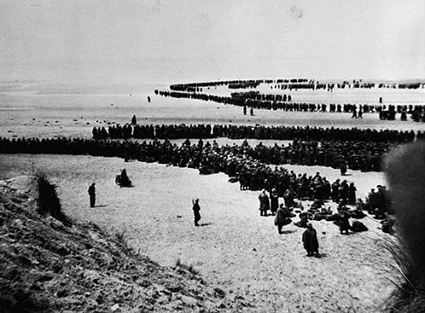 (London, June 1, 1940) — Thousands of British troops, cut off by German forces at Dunkirk, France, will likely not be evacuated. "The whole root and core and brain of the British Army has been stranded on the beaches," said Prime Minister Winston Churchill. "We are studying the problem."
As many as 330,000 British and French troops face capture or slaughter at the hands of the Germans. This despite the fact that up to 700 merchant marine, fishing vessels and small pleasure boats are available to mount a rescue effort, sources say. However, British law prohibits private watercraft from carrying military personnel and sources say the number of Royal Navy vessels available is not adequate. "The Royal Navy is evaluating various scenarios in light of available resources," said a spokesman for the prime minister. "The PM is holding regular meetings with experts from leading universities and vows to kick someone's arse," the spokesman said.
Of course, what really happened in the first week of June 1940 is that 850 ships, most of them civilian, mounted Operation Dynamo and helped evacuate nearly 330,000 Allied troops that had been cut off in the Battle of Dunkirk. Those troops lived to fight another day and helped defeat Adolph Hitler. The "little ships of Dunkirk," those fishing vessels and private pleasure boats that were essential to the rescue, remain a part of British folklore. The smallest of the little ships, the 15-foot fishing boat, Tamzine, is on display in the Imperial War Museum. The "Dunkirk spirit" remains an expression of the solidarity of the British people in times of adversity.
Contrast the Dunkirk spirit with the Obama administration's dithering behind the Jones Act. The Jones Act is a piece of 1920s protectionist legislation that requires vessels operating in U.S. waters to be American-built and American-crewed. The Jones Act itself provides that the president may waive its provisions in an emergency, as President Bush did in the wake of Hurricane Katrina.
Offers to help with the BP oil spill have come from Belgian, Dutch and Norwegian firms that have high-tech ships and equipment specific to the cleanup task, resources that the U.S. Coast Guard lacks. In all, thirteen countries have offered to help clean up the Gulf and the Obama administration has turned them all down.
So why does President Obama not waive the Jones Act as President Bush did?
Out of concern for the safety and worthiness of the vessels, says the administration. But that answer is obviously phony. The only believable answer appears to be the cynical answer and it is really cynical. Maritime unions support the Jones Act and they see waiving it as a threat to jobs.
And if ever, oh, ever there was a president beholden to the unions, it's Barack Obama.
If it were you or me faced with a huge problem and someone from Belgium called and said, "I have some gear and some people that know how to help," we'd say, "When can you get here?"
But when you're a big-government statist like Barack Obama, everything you do has a political calculus. Constrained by such calculus, a statist government inevitably gets bigger and tries to control more to the point that it cannot perform even its most basic functions.
When you try to do everything you wind up not being good at anything. Thus is the Obama administration coming to be defined.
Rather than publicly vilifying British Petroleum and casting about for posteriors to kick, President Obama would be better served to let whomever on planet Earth that is possessed of the expertise, the equipment and the willingness to help, get to the Gulf of Mexico and get to work.
It's a strategy that's worth a try. It worked for Winston Churchill at what otherwise might have been his Katrina.