Election 2012: From Motown to Jay-Z.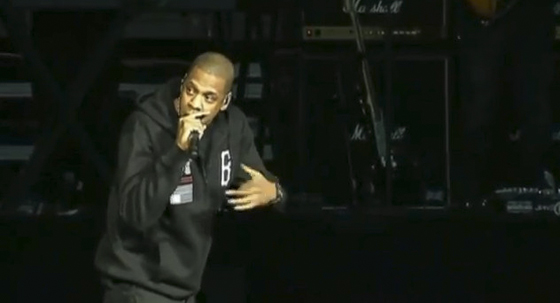 Listen to the broadcast of You Tell Me on KTBB AM 600, Friday, November 9, 2012.

I have now voted in eleven presidential elections and my record is six and five, a half game above .500. Which is to say I have lost nearly as many presidential elections as I have won. So why am I so upset about losing this one?
Seventy two hours on, I think I have it figured it out.
At President Obama's last campaign rally in Ohio the rapper Jay-Z was the headline entertainer. He performed a hit of his called, "99 Problems." Google the lyrics to "99 Problems" and you will find that the words bitch, hoe, the "F" word, the "N" word and "GD" appear a combined total of 13 times. That word count makes "99 Problems" one of the milder selections in the Jay-Z repertoire. Try "Big Pimpin'" to see what I mean.
Jay-Z is the stage name for Shawn Corey Carter. He is a huge act. Worldwide, he has sold more than 50 million albums. In addition to being a recording artist, he is a record producer and event promoter. He is a part owner in the Brooklyn Nets NBA basketball team, a publisher of video games, a co-brand director for Budweiser Select beer and the owner of a line of branded clothing. His net worth is estimated at $450 million and he is a force to be reckoned with in the music industry.
Much of Jay-Z's work, like much in the rap and hip-hop genre, is blatantly and aggressively misogynistic. Simply put, Jay-Z has become wealthy recording songs that objectify women in the crudest possible way. The words referencing women used by Jay-Z make Rush Limbaugh's unfortunate characterization of Sandra Fluke look like the small talk in the lobby at Lincoln Center. Yet those who grooved to Jay-Z at Obama's campaign rally see absolutely no inconsistency in accusing Mitt Romney and the Republicans of waging a 'war on women.' And therein lies a major reason that Mitt Romney lost Tuesday's election.
Let me explain.
Save for having seen him with President Obama and save for the research I have done on him for this piece, I know nothing of Jay-Z. He is not even remotely near my orbit.
My African-American music industry titan is Berry Gordy, Jr. Berry Gordy is the man that brought us Motown.
Common decency precludes me sharing the lyrics to Jay-Z's songs with you. But Motown I can quote all day.
"Baby I need your lovin', got to have all your lovin'." – The Four Tops
"If you look closer it's easy to trace, the tracks of my tears." – Smokey Robinson
"You can't hurry love, no you can't hurry love." —  The Supremes
"Ain't nothin' like the real thing, baby. Ain't nothin' like the real thing." – Marvin Gaye/Tammi Terrell
"I guess you'd say, what can make me feel this way? My girl." – The Temptations
With the benefit of hindsight, I'm now able to see that Mitt Romney's electoral problem was hiding in plain sight at the political conventions in September, both of which I attended. In Tampa, the Republicans for the most part looked like Motown listeners. In Charlotte, the Democrats looked more like fans of Jay-Z.
A slow shift has taken place and like all such shifts, it happened unnoticed until we couldn't help but notice. Little by little, the lyrics, melodies and superb musicianship of Motown has given way to the culturally bankrupt, beat-driven rap of Jay-Z. Not fertile territory for Mitt Romney's promotion of virtues like thrift, hard work and personal responsibility.
The reason Mitt Romney lost the election is very simple.
Democrats and Republicans at one time shared a common belief in industry, ethics and individual responsibility just as they shared a common affinity for Motown.
Today, we're divided into producers and takers, Motowners and Jay-Z'ers. And the Jay-Z'ers now outnumber the Motowners by just enough.
Thus my anguish over this election. It arises because I can't help believing that something great is slipping from our grasp, never to be gotten back.