Obama's spot-on election analysis.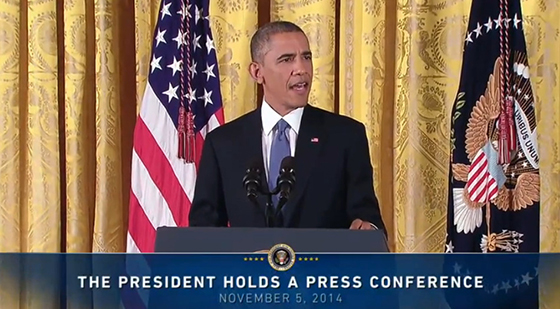 Listen To You Tell Me Texas Friday 11/07/14


Download
Exactly one month before election day President Obama offered a spot-on analysis of the midterms:
"I'm not on the ballot this fall…but make no mistake these policies are on the ballot – every single one of them."
The voters apparently understood that and they voted. It was a resounding thumbs down.
All of the soaring Obama speeches dating back to his keynote at the 2004 Democratic National Convention came crashing back to Earth on Election Day 2014. The voters finally examined real results and weighed those results against the promises that were made.
There were many promises. Not a single one has been kept.
If you promise to "bend the cost curve downward" as it applies to health care, costs had better actually come down.
If you promise that borrowing close to a trillion dollars will stimulate the economy, growth had better be a lot more robust than two percent per year and middle class working people had better see their paychecks and their purchasing power improve.
If you promise "the most transparent administration in history," high-ranking agency officials within your administration had better not find it necessary to take the fifth.
If you promise to better engage the Middle East, your ambassador to Libya had better not die in a terrorist attack.
If you promise that your foreign policy will lead to greater respect for the country and a safer, more stable world, Vladimir Putin had better not invade Ukraine and chaos had better not break out all over the globe.
If you promise that government will make your life better, veterans had better not die waiting for an appointment at a VA hospital.
And if you promise to "change the way Washington works," Washington had better actually work.
The simple fact is none of the "Hope & Change" promises made by Obama have come to pass. I say again, not one.
The American people gave Obama a long time to make good on what he promised. But after six years, the voters finally said, "enough." The president was correct. His policies were on the ballot and they got voted down.
That vote resulted in a big night for the GOP.
But the victory party needs to be a muted affair. The challenge for Republicans is to now recognize the being against bad policies isn't the same as being for good ones. Republicans must, in the next 12 months, propose solutions on health care, a revision to our Byzantine tax code, ways to craft better foreign policy in a dangerous world and ways to improve a persistently sluggish economy – all in a manner that people can understand and get behind. They must do so in the full knowledge that those proposals will not get a fair hearing in the media.
The Democrats lost on Tuesday. Starting now, the Republicans must prove that they can win.