Virtue signaling theatrics.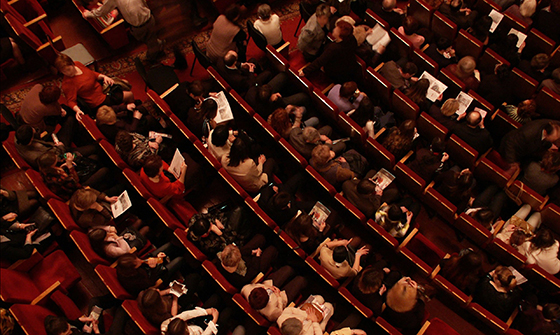 My wife and I went to a play at the Dallas Theater Center Wednesday night. It was the first for the DTC since the pandemic began in March 2020.
As the lights dimmed a recorded message began. But it wasn't the usual reminder to silence our cell phones. This message was highly produced and went on for upward of two minutes. If it ever said anything about cell phones I don't remember it. Such was clearly not the point.
The point was "social justice," as virtue-signalers on the left like to call it. The recording began by telling us that the land upon which we were sitting was once occupied by proud Native American tribes such as the Comanche, the Caddo and the Tawakoni. The narration was accompanied by background voices speaking in what I assume is the native tongue of those Native Americans. It then went on to tell us that following the displacement of the Native Americans, the very same land became the site of a settlement of freed slaves.
The message wrapped up with a somewhat preachy reminder that it was at the hands of people of European descent (read: white) that Native Americans and former African-American slaves suffered.
Those in the audience that for whatever reason identify with those aggrieved groups enjoyed another opportunity to indulge in some righteous resentment. Those of us who are white were given yet another opportunity to acknowledge our guilt.
There were no factual errors in the Dallas Theater Center's pre-show message. But was it necessary? We were all there to see a play.
In another entertainment realm, the National Football League is stenciling slogans like "End Racism" on the backs of players' helmets this season. Is that necessary? The fans go to the stadium or watch TV to see a football game.
RELATED: Football has become a burden to watch.
Yes, it's true that white people from Europe enslaved black people from Africa. It's also true that throughout history, people of every race have alternately been the enslavers or the enslaved.
Ironic in light of the Dallas Theater Center's preachment, it's additionally true that the Greek poet Thespis – a white European – is credited with inventing theater as we now understand it. (That's why stage actors are called Thespians.)
So, do we really need a simplistic, contextually-challenged social justice sermon every time we buy an entertainment ticket? Does that help anybody?
If we want to End Racism as the NFL admonishes, why don't we set race aside for a few hours every now and then and enjoy a movie or a play or a football game together?
The world is a tough place. Can we not just share the experience of sports and entertainment as fellow travelers? Movies, plays, music and sports provide diversion that's much needed by all of us. We used to know that. We seem to have forgotten.
No ethic group is free of ancestral sin. Endless recrimination over an unchangeable past serves only to dim hopes for a brighter future. Absent such hope, no society or civilization can survive.