Recent presidents explain why we're broke.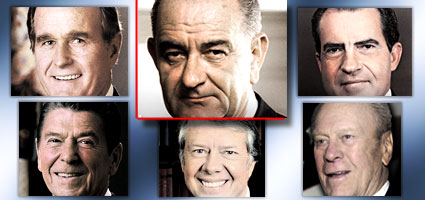 The U.S government wastes money every second of every day come rain or come shine irrespective of which party is in power. From bridges to nowhere, to endowments for "performance artists" to urinate in public to Amtrak to studies on the mating habits of cockroaches; the federal government incinerates billions of dollars every single day.
And yet, if all of this waste were to magically end tomorrow, the United States would still be broke. Such is the magnitude of the entitlement state that has been growing since FDR signed the Social Security Act of 1935.
Roosevelt died at 63, never eligible to draw Social Security. Lyndon Johnson signed the Social Security Act of 1965, amending the 1935 law to create Medicare. LBJ died at 64, never eligible for Medicare benefits.
But the five presidents that followed shattered the assumptions behind Social Security and Medicare. Nixon died at 81. Gerald Ford died at 93. Jimmy Carter is still alive at 86. Ronald Reagan died at 93 and George H.W. Bush is alive at 87.
Therein lies the simplest possible explanation of our massive fiscal problems. Neither Social Security nor Medicare can sustain the costs of paying benefits for 20 or 30 years as they now routinely do. Social Security and Medicare have to be modified or the country goes bankrupt plain and simple.
The bravest president in American history will be the one who finally stands up and says so.