If Sarah Palin incited Jared Loughner, who incited James Hodgkinson?
Listen To You Tell Me Texas Friday 6/16/17


Download
I don't know what was specifically going on in James Hodgkinson's head early Thursday morning. I can't say what moved him to fire on the Republican members of Congress who were practicing for the annual Congressional Baseball Game. But certainly there is enough evidence surrounding Hodgkinson to form a plausible guess.
Hodgkinson was a very active participant in and consumer of left wing political rhetoric. His social media posts reveal a man who deeply despised President Trump.
In a June 12 post to Facebook, Hodgkinson called the president, "truly the biggest a**hole we've ever had in the Oval Office."
But that doesn't make him remarkable. Lefty Trump-haters are truly a dime-a-carload. What makes him remarkable is that he singled out members of Congress from President Trump's party and began shooting at them.
The question is, what triggered the rampage? When and by whom was Hodgkinson radicalized?
Was he incited to violence by the words of his fellow travelers on the Left? Did Madonna's call to "blow up the White House" sound like a good idea? Did Kathy Griffin's effigy of the president's severed head resonate? Did he identify with New York City's Shakespeare in the Park at which a Donald Trump lookalike playing the part of Julius Caesar is brutally assassinated every evening?
The truth is we can only guess. We'll never know.
Only the New York Times can be certain of such things. In January 2011 the New York Times knew for certain what incited Jared Loughner to go on a shooting rampage in Arizona that killed six and grievously wounded a dozen others, including congresswoman Gabrielle Giffords. The catalytic agent for that outrage was, according to the Times, an obscure Sarah Palin Political Action Committee piece depicting targeted congressional districts under crosshairs. The Times, in chorus with the rest of the left wing media, wasted no time using the piece to indict the entirety of American conservatism for murder.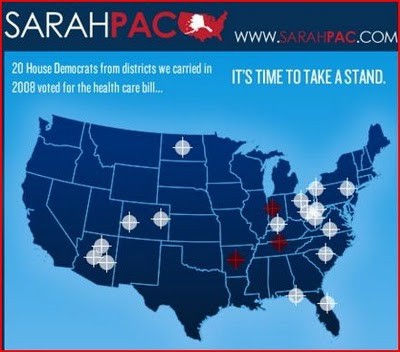 As it turned out, Loughner was a diagnosed schizophrenic who was apolitical and had never seen the Palin piece. You would think the Times would have been duly chastened.
Yet, astonishingly, the Times has dusted off the Sarah Palin piece and is holding it up again in the wake of this week's horror as an illustration of "how vicious American politics have become."
For the sake of discussion, let's say the Times is right. By their logic then, if an obscure piece of Republican campaign literature can incite a shooting rampage, what does Madonna wanting to dynamite the White House incite? Who is potentially moved to violence by hearing actor Robert DeNiro say, "I'd like to punch Trump in the face?," or by seeing "Donald Trump/Julius Caesar" assassinated every night in Central Park (sponsored in part by the New York Times)?
Jared Loughner was consuming nothing from the political right when he shot Gabrielle Giffords. James Hodgkinson, however, was fairly soaking in heated rhetoric from the Left.
When do you suppose the New York Times will report accordingly?