The New York Times revealed.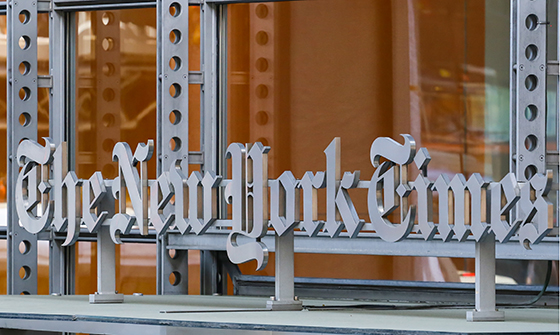 Bari Weiss, until last week, was an opinion page writer at The New York Times. She is a self-described "centrist liberal." She was hired following the 2016 election – when the Times suffered a convulsive realization that the paper might not really understand the country it is supposed to be covering.
Ms. Weiss resigned from the Times last week. In so doing, she posted her brilliant resignation letter that offers a behind-the-scenes view of the leftist corruption that has destroyed mainstream American journalism.
Her letter is a tour de force – chock full of money quotes. Here is one of my favorites.
…a new consensus has emerged in the press, but perhaps especially at this paper: that truth isn't a process of collective discovery, but an orthodoxy already known to an enlightened few whose job is to inform everyone else."
Bravo. I have been searching for a way to concisely describe the smug, condescending, elitist leftism that has taken over substantially all of American journalism. I now have it.
Ms. Weiss goes on to say,
Twitter is not on the masthead of The New York Times. But Twitter has become its ultimate editor. As the ethics and mores of that platform have become those of the paper, the paper itself has increasingly become a kind of performance space. Stories are chosen and told in a way to satisfy the narrowest of audiences, rather than to allow a curious public to read about the world and draw their own conclusions."
In my nearly 30 years of owning a network-affiliated news and talk radio station, I have spent a lot of time with network anchors, reporters and executives. Some of them I count as real friends. Some of them – a distinct minority – actually share my conservative beliefs. Others are at least intellectually honest and will privately engage in civil, thoughtful discussion. But the operative word is 'privately.' They dare not do so in plain view. A newsroom employee's public departure from the leftist orthodoxy that pervades New York City and Washington, D.C. newsrooms carries a high risk of career suicide.
Again, the words of Bari Weiss:
My own forays into Wrongthink have made me the subject of constant bullying by colleagues who disagree with my views. Several colleagues perceived to be friendly with me were badgered by coworkers. My work and my character are openly demeaned on company-wide Slack channels where masthead editors regularly weigh in."
The New York Times is still the bell cow of American journalism. Its reporting still informs the reporting of nearly all other outlets. Thanks to Ms. Weiss, we see in high relief just how far afield American journalism has strayed. She quotes an 1896 statement from the Times's legendary publisher Adolph Ochs, who at the time aspired,
…to make the columns of The New York Times a forum for consideration of all questions of public importance, and to that end to invite intelligent discussion from all shades of opinion."
Those days are long gone. Consume your media accordingly.