Have you seen this man?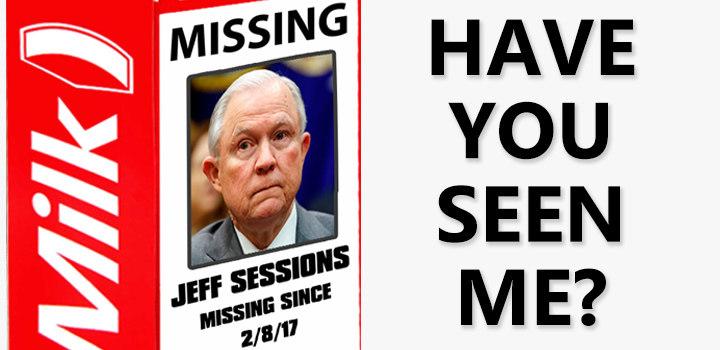 Listen To You Tell Me Texas Friday 4/20/18


Download
Where is attorney general Jeff Sessions? Where does he go every morning? Is he even still alive?
By all evidence, he's doing next to nothing to enforce the law as it applies to people at the very highest levels of government. From what we can see, assistant attorney general Rod Rosenstein has swapped roles with Sessions. Functionally, it appears that Rosenstein is the AG and that to the extent that Sessions has any role, it's to keep quiet and fetch Rosenstein's coffee.
Initial enthusiasm over President Trump's nomination of Jeff Session didn't take long to fade. Early on, Sessions famously recused himself from the Deep State/sore loser-Democrat-inspired 'Russian collusion' investigation – an investigation led by special counsel Robert Mueller and perhaps the most blatantly political criminal investigation in U.S. history. The president vigorously objected to that recusal. But it doesn't matter. On the subject of Trump and Russia, the AG stands recused.
Fine.
But where is he on everything else?
Former FBI director James Comey all but confessed to obstruction of justice – among other felonies – in his just-released book and in his interview with ABC's George Stephanopoulos. Comey accuses Andrew McCabe, his former deputy at the FBI, of lying. McCabe returns the accusation. For once, both men may be right. We know that the Justice Department inspector general issued a scathing report on McCabe, accusing him of lying to the FBI among other sins.
In other quarters, FBI agent Peter Strzok and his Justice Department paramour Lisa Page left a string of text messages that clearly implicate them in a conspiracy to affect the outcome of a criminal investigation and, by extension, the 2016 presidential election. Is a grand jury referral even being discussed?
Upon being found out for using her position to unfairly and illegally target political groups whose views she did not like, former IRS official Lois Lerner invoked the fifth amendment and then ran for the tall grass. No one expected the Obama Justice Department to take any action against Ms. Lerner. But the current Justice Department now answers (at least in theory) to a Republican president.
Speaking of attorneys general, former AG Loretta Lynch very famously met privately with Bill Clinton even while Bill's wife Hillary was the subject of a criminal investigation. At the very minimum that constitutes an ethical violation. It's possibly also a criminal violation.
And the biggest fish of all – Hillary Clinton – is so obviously guilty of multiple felonies regarding her handling of classified documents, obstruction of justice, the taking of bribes, influence peddling, self-dealing while in office and violation of laws concerning the charitable foundation that bears her name – that to try to assert otherwise is just plain silly. Even Democrats know that Hillary Clinton is dirty.
Yet the Justice Department does nothing. It now seems obvious that Mrs. Clinton will get a pass on behaviors that would land you or me in federal prison.
So where is Jeff Sessions? Has anyone seen him?
Should we put out an Amber Alert?